Conferencia HDCA 2018 – Buenos Aires, Argentina
Conferencia HDCA 2018
View the Conference Page in English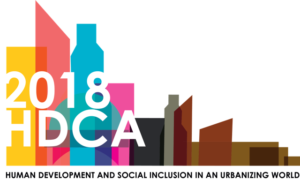 "Desarrollo humano e inclusión social en un
mundo crecientemente urbanizado" 
Del 30 de agosto al 1ro de septiembre, 2018
Buenos Aires, Argentina
Organizado por Universidad Católica Argentina

En colaboración con la Facultad Latinoamericana de
Ciencias Sociales-Argentina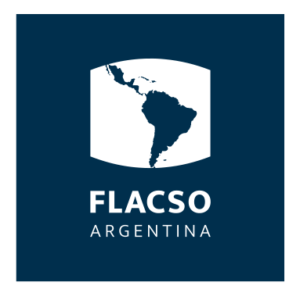 El Comité de Programa invita cordialmente a investigadores, académicos, profesionales y funcionarios de organismos internacionales, del sector público, de la sociedad civil, y a todos aquellos interesados en participar de la Conferencia HDCA 2018.  Tiene como objetivo promover investigaciones académicas de alta calidad en todas las áreas vinculadas con el enfoque de las capacidades de desarrollo humano, fomentar debates intelectuales e impulsar colaboración entre los distintos sectores.
Por favor seleccione en el menú de la derecha para encontrar más información.
Puede contactar a los organizadores de la conferencia al siguiente mail: hdca2018@uca.edu.ar.
Política de Privacidad
HDCA respeta la privacidad de los participantes y no venderá ni compartirá la información personal. Los pagos se realizan vía First Data, el cual es un procesador seguro para empresas e individuos.
Política de Devoluciones
La inscripción a la Conferencia y su pago se podrán realizar 5 meses antes de la Conferencia y la inscripción no estará completa hasta que el pago se haya realizado. Una vez que el pago se haya realizado, recibirán un email con la confirmación. La inscripción se cerrará una vez que se haya llegado al cupo límite. Todas las inscripciones son finales. No se realizarán devoluciones salvo que hubiere alguna causa de gravedad (como enfermedad seria, o muerte de un familiar cercano). La solicitud para la devolución solo se recibirá antes del comienzo de la Conferencia. No se realizarán devoluciones por el pago de la membresía.
Tema de la Conferencia
"Desarrollo humano e inclusión social en un mundo crecientemente urbanizado"
Hoy más de la mitad de la población mundial vive en áreas urbanas y se espera que para el 2050 el porcentaje alcance al 66 por ciento. La intensa interacción social, cultural y económica de la aglomeración de personas en ciudades ofrece diversos beneficios para el desarrollo humano y económico, sin embargo, también plantea numerosos desafíos. La fragmentación social, la segregación residencial y el amplio crecimiento de asentamientos informales reflejan la persistente desigualdad social y económica en el contexto de la expansión de las ciudades. Los rápidos cambios demográficos y su incidencia en la urbanización, junto con el estrés ambiental causado por las ciudades, impiden la adecuada prestación de los servicios públicos y una eficaz gobernanza urbana. El reciente flujo de inmigrantes de países pobres e inestables a ciudades de naciones desarrolladas trae nuevos obstáculos a la participación económica, social y cultural en el Norte global. Todas estas tendencias desafían a los gobiernos y la sociedad en su conjunto a encontrar nuevas formas de fomentar el desarrollo humano e inclusión social para todos.
América Latina, la región más urbanizada y desigual del mundo, con la mayor concentración de megaciudades, es un lugar particularmente relevante para realizar esta conferencia. Problemas como la segregación residencial, la desigualdad urbana, la marginalidad y la exclusión social, la violencia, las adicciones, la degradación del medio ambiente, entre otros, han adquirido especial relevancia en la región. El origen de estos problemas está enraizado no solo en procesos de urbanización, sino también en complejos aspectos históricos, políticos y culturales. El continente también ha producido importantes innovaciones en el diseño de redes de seguridad social (por ejemplo, las transferencias condicionadas de ingresos) y en políticas para fomentar la integración urbana.
El tema de la Conferencia de la HDCA 2018 propone analizar estos problemas urbanos a través de la óptica del enfoque del desarrollo humano y de las capacidades, y a la luz de experiencias globales. Examinará cómo el enfoque proporciona herramientas y criterios innovadores para evaluar la calidad de vida y cómo se distribuyen sus condiciones en el contexto de las ciudades. La conferencia examinará asimismo cómo el enfoque de las capacidades puede contribuir a pensar críticamente el diseño de políticas adecuadas para alcanzar los Objetivos de Desarrollo Sostenible, especialmente el objetivo 11: lograr que las ciudades y los asentamientos humanos sean inclusivos, seguros, resilientes y sostenibles. Puede asimismo fomentar la discusión sobre cómo abordar la Nueva Agenda Urbana establecida por UN-Habitat III: 1) Asegurar que nadie se quede atrás, lo que supone poner fin a la pobreza en todas sus formas y dimensiones, incluida la erradicación de la pobreza extrema, garantizar la igualdad de derechos y oportunidades, la diversidad socioeconómica y cultural, y la integración en el espacio urbano; 2) Asegurar el desarrollo de economías urbanas sostenibles e inclusivas, aprovechando los beneficios que se derivan de la aglomeración resultante de una urbanización planificada, incluida la alta productividad, la competitividad y la innovación, lo que supone fomentar el empleo pleno y productivo y el trabajo decente para todos; 3) Garantizar la sostenibilidad del medio ambiente promoviendo el uso de la energía no contaminante y el uso sostenible de la tierra y los recursos en el desarrollo urbano, protegiendo los ecosistemas y la diversidad biológica.
Convocatoria & Fechas límite
Para hacer el envío de propuestas de posters, ponencias o paneles a través del sitio de internet http://www.conftool.pro/hdca2018/ utilice el formulario indicado para cada tipo de propuesta.
Si se encuentra problemas con el sistema de envíos por internet, por favor contacte a los organizadores de la Conferencia:  hdca2018@uca.edu.ar
Con el fin de asegurar la calidad académica, todos los envíos serán evaluados por dos académicos; al menos uno de ellos "HDCA Fellow" o investigador senior en el área.
Fechas importantes
28 de febrero, 2018 – Envío de propuestas (resúmenes)
15 de abril, 2018 – Anuncio de aceptación/rechazo
15 de junio, 2018 – Fecha límites para registrarse en la Conferencia con tarifas reducidas
15 de julio, 2018 – Envío de las ponencias/posters completos
15 de agosto, 2018 – Fecha límite para registrarse en la Conferencia con las tarifas estándares
Conferencias magistrales y paneles plenarios
Ravi Kanbur, Cornell University
"Urbanización: Una desagregación"
Ravi Kanbur enseña e investiga en temas de desarrollo económico, economía pública y teoría económica. Se desempeñó como funcionario superior del Banco Mundial, ocupando el cargo de economista jefe para África. Ha publicado en revistas académicas líderes, incluyendo Journal of Political Economy, American Economic Review, Review of Economic Studies, Journal of Economic Theory and Economic Journal.
Es presidente de la Human Development and Capabilities Association; presidente del Consejo del Instituto Mundial de la Universidad de Naciones Unidas de Investigaciones de Economía del Desarrollo; co-presidente del Consejo Científico del Panel Internacional sobre el Progreso Social, y miembro del Grupo Experto de Alto Nivel de la OCDE para la Medición del Desempeño Económico. Fue previamente presidente de la Sociedad para el Estudio de la Desigualdad Económica, miembro del Consejo Asesor de Alto Nivel del Dialogo sobre Justicia Climática, y miembro del Grupo Central de la Comisión sobre Pobreza Global.
Santiago Levy, Banco Interamericano de Desarrollo
Ul Haq Lecture
"Informalidad y inclusion social"
El economista mexicano Santiago Levy Algazi es el vicepresidente de sectores y conocimiento del Banco Interamericano de Desarrollo. Previamente, se desempeñó como gerente general y economista jefe del Departamento de Investigación. Antes de ingresar al BID, fue director general del Instituto Mexicano de Seguridad Social (IMSS) desde diciembre de 2000 a octubre de 2005. De 1994 hasta 2000, Levy sirvió al gobierno mexicano como viceministro del Ministerio de Hacienda y Crédito Público, convirtiéndose en el arquitecto principal del conocido programa social Progresa-Oportunidades que beneficia a los pobres.  Levy posee un doctorado en economía y una maestría en economía política de la Universidad de Boston, además de un post doctorado honorífico de la Universidad Cambridge. Ha sido asesor de varios gobiernos y organizaciones internacionales, además de ocupar diversos cargos docentes en el Instituto Tecnológico Autónomo de México y en la Universidad de Boston, donde fue profesor asociado y director del Instituto para el Desarrollo Económico. Es autor de por lo menos 80 artículos, monografías y capítulos de libros en temas tan diversos como reducción de la pobreza, competitividad, políticas cambiarias, desequilibrios en las exportaciones, precios, microeconomía y energía. Su trabajo "La pobreza en México" obtuvo en 1992 el Premio Nacional de Investigación en Economía del Banco de México. Sus libros publicados recientes son: No Crecimiento sin Equidad? Desigualdad, Intereses, y Competencia en Mexico, (editado con Michael Walton) Palgrave MacMillan and World Bank, 2009;  Buenas Intenciones, Malos Resultados: Política Social, Informalidad y Crecimiento Económico en México, Brookings Institution Press, 2008; Progreso contra la Pobreza: Sosteniendo el Programa Progresa-Oportunidades de México, Brookings Institution Press, 2006; Sin Herencia de Pobreza, Editorial Planeta, 2005 (con Evelyne Rodríguez); y Ensayos sobre el Desarrollo Económico y Social de México, Fondo de Cultura Económica, México, 2004.

Alejandro Portes, Princeton University
Sen Lecture
Alejandro Portes es Profesor Howard Harrison y Gabrielle Snyder Beck (Emeritos) de Sociología en la Universidad de Princeton, Profesor de Investigación en Sociología y Profesor de Leyes en la Universidad de Miami. Es el director fundador del Centro de Migraciones y Desarrollo en la Universidad de Princeton. Nacido en la Havana, Cuba, emigró a los Estados Unidos en 1960. Se educó en la Universidad de la Havana, La Universidad Católica de Argentina y la Universidad de Creighton. Recibió su Maestría en Artes y su Doctorado de la Universidad de Wisconsin-Madison. Ha recibido doctorados honorarios de New School for Social Research, la Universidad de Wisconsin-Madison, la Universidad de Génova en Italia, la Universidad de Roskilde en Dinamarca, la Universidad Nueva de Lisboa. Portes es el autor de 250 artículos y capítulos sobre desarrollo nacional, migración internacional, urbanización de Latino- América y el Caribe y sociología económica. Ha escrito más de 40 libros y ediciones especiales. Sus libros y artículos han sido traducidos en español, portugués, italiano, chino y japonés. Sus más recientes artículos han sido publicados en prestigiosas revistas y diarios de investigación en todo el mundo. Sus investigaciones actuales se enfocan sobre el proceso de adaptación de las segundas generaciones de migrantes, el papel de las instituciones en el desarrollo nacional y el estudio comparativo de organizaciones inmigrantes transnacionales. Portes es miembro titular de la Academia de Artes y Ciencias y de la academia nacional de Ciencias de Estados Unidos.
Avner De-Shalit, Hebrew University of Jerusalem
"Ciudades, inmigrantes y el sentido de lugar"
Avner de Shalit es Profesor Max Kampelman de Democracia y Derechos Humanos en el Departamento de Ciencias Políticas de la Universidad Hebrea de Jerusalén. Desde la obtención de su doctorado en la Universidad de Oxford (1990) ha estado trabajando en temas de filosofía ambiental, teoría de la política urbana, y cuestiones de pobreza y desigualdad. Es autor de ocho libros, entre ellos Why Posterity Matters (Routledge), The Environment: Between Theory and Practice (Oxford UP), Disadvantage (Oxford UP, en co-autoría con Jonathan Wolff), The Spirit of Cities (Princeton UP, en co-autoría con Daniel Bell), y más recientemente Cities and Immigration (Oxford UP, en prensa). Ha sido jefe de departamento y decano de la Facultad de Ciencias Sociales de la Universidad Hebrea. En 2014 recibió el Rothschild Prize en Ciencias Sociales. En Israel ha tenido una activa participación política en asuntos sociales y ambientales, y también en el apoyo a los derechos políticos de los palestinos.
Ingrid Robeyns, Utrecht University
¿Qué, en todo caso, está mal con ser super rico ?
Ingrid Robeyns es presidente electa de la Human Development and Capability Association y director del departamento de ética de las instituciones en la Universidad de Utrecht. Formada en economía y filosofía, trabaja en temas de justicia social y distributiva, aplicados a un amplio espectro de problemas, incluyendo los de género, discapacidad, desigualdades globales, y cuestiones ambientales. Actualmente dirige un proyecto de investigación de 5 años de duración referido a la pregunta sobre si debería haber límites superiores a la cantidad de recursos económicos y ecológicos que es éticamente permisible tener. También ha publicado ampliamente sobre los fundamentos teóricos del enfoque de las capacidades, siendo su más reciente publicación el libro de libre acceso Wellbeing, Freedom and Social Justice (Open Book Publishers 2017). Mayores detalles pueden encontrarse en www.ingridrobeyns.info.
Panel plenario sobre Poder, desigualdad y justicia: Una perspectiva latinoamericana (panelistas: Fernando Calderon, Sonia Fleury, Javier Iguiñiz, José Nun)
Panel plenario sobre Experiencias de urbanización e integración de asentamientos informales
Programa de la Conferencia
Eventos previos a la Conferencia
Inscripción, tarifas & becas
Ya está abierta la inscripción a la Conference – Haga click aquí para inscribirse.
Estudiantes y académicos de países considerados de ingresos bajos y medios pagarán una tarifa de inscripción significativamente más baja, según se indica a continuación:
Profesional, países de altos ingresos, registración temprana (U$D 380)
Profesional, países de altos ingresos, estándar (U$D 430)
Profesional, países de ingresos bajos o medios, registración temprana (U$D 190)
Profesional, países de ingresos bajos o medios, estándar (U$D 240)
Estudiante, países de altos ingresos, registración temprana (U$D 190)
Estudiante, países de altos ingresos, estándar (U$D 240)
Estudiante, países de ingresos bajos o medios, registración temprana (U$D 90)
Estudiante, países de ingresos bajos o medios, estándar (U$D 130)
Por favor mire la clasificación del Banco Mundial para identificar los países con ingresos bajos, medios o altos.
Nótese que el pago de la inscripción provee un año de membresía a la HDCA, lo que incluye la suscripción anual al Journal of Human Development & Capabilities.
Becas para investigadores jóvenes (hasta 35 años)
La HDCA puede proveer en forma limitada de ayuda económica para jóvenes académicos (hasta 35 años) que quieran participar de la conferencia de este año.
Se otorgan becas de hasta US$1.000;  US$ 500 promedio. Quienes estén interesados en recibir una beca deben indicarlo al enviar su propuesta para evaluación (fecha límite: 15 de febrero). Dado que hay muchos académicos interesados en recibir financiamiento pedimos que apliquen sólo aquellos para quienes la beca es decisiva para asistir a la conferencia. Los criterios generales son: mérito (promedio de los puntajes de las evaluaciones) y necesidad financiera.
INFORMACION PARA LA VISA
Personas de los países en la siguiente lista NO requieren VISA cuando viajan a la Argentina como turistas.
A) HASTA NOVENTA (90) DIAS:
Andorra, Armenia, Australia, Austria, Barbados, Belarus, Belgium, Bolivia, Brazil, Bulgaria, Canada, Colombia, Costa Rica, Croatia, Czech Republic, Chile, Cyprus, Denmark, Ecuador, El Salvador, Estonia, Estado Ciudad del Vaticano, Finland, France, Georgia, Germany, Greece, Guatemala, Guyana, Haiti, Honduras, Hong Kong (With Passport R.A.E.H.K.), Hungary, Ireland, Iceland, Israel, Italy, Japan, Korea Republic, Latvia, Liechtenstein, Lithuania, Luxembourg, Macedonia, Malta, Mexico, Monaco, Montenegro, Nicaragua, Norway, New Zealand, Netherlands, Panama, Paraguay, Peru, Poland, Portugal, Romania, Russian Federation, Saint Kitts and Nevis, San Marino, Santa Lucia, Saint Vincent and The Grenadines, Serbia, Singapore, Slovak Republic, Slovenia, South Africa, Spain, Sweden, Suriname; Switzerland, Thailand, Trinidad and Tobago, Turkey, Ukraine, United Arab Emirates, United Kingdom Of Great Britain and Northern Ireland, United States of America, Uruguay.
B) HASTA SESENTA (60) DIAS:
C) HASTA TREINTA (30) DIAS: Grenada; Hong Kong (With British Passport B.N.O.); Jamaica; Republic of Kazakhstan and Malaysia.
Si su país no figura en esta lista, necesita una VISA para ingresar en ARGENTINA. Por favor, ingrese al siguiente link para más información: http://www.cancilleria.gob.ar/visas
Hotelería
Este año la Conferencia HDCA 2018 se llevará a cabo en la Universidad Católica Argentina (UCA), en Alicia Moreau de Justo 1300, Puerto Madero, Ciudad Autónoma de Buenos Aires, Argentina.
Los organizadores de la misma han conseguido tarifas especiales en hotelería para los participantes de la Conferencia, a través de la agencia TTS VIAJES. Sugerimos alojarse en alguno de los siguientes hoteles cercanos a UCA ya que el transporte se encuentra reducido, al igual que las calles cercanas, por una gran obra en la zona. Aclaramos que no se proveerá transporte entre los hoteles y la UCA, dada la cercanía entre los mismos.
Para acceder estos precios especiales, por favor comuníquese por teléfono o vía email, especificando el Código de Referencia: 2018 HDCA Conference, a:
 Angelica Basavilbaso
+54 11 6333-3333 ext 3720
abasavilbaso@ttsviajes.com | www.ttsviajes.com
Lista de Hoteles ofrecidos con precio especial para participantes de la Conferencia HDCA 2018 – TTS Viajes:
HOTEL HILTON U$S 234.- + tax
http://www3.hilton.com/en/hotels/argentina/hilton-buenos-aires-BUEHIHH/index.html
Dirección: Macacha Güemes 351 – CABA
Teléfono: +54 11 4891-0000
Hotel MADERO U$S 170.- + tax
http://www.hotelmadero.com/en
Dirección: Dique 2, Rosario Vera Peñaloza 360 – CABA
Teléfono: +54 11 5776-7777
ANSELMO BUE CURIO COLLECION BY HILTON : U$S 133.- + tax
http://curiocollection3.hilton.com/en/hotels/argentina/anselmo-buenos-aires-curio-collection-by-hilton-BUEBAQQ/index.html
Dirección: Don Anselmo Aieta 1069 – CABA
Teléfono: +54 11 4834-3200
CH MADERO SUITES U$S 90.- + tax
https://www.hotelescyan.com/chmaderourbanosuites/
Dirección: Azopardo 770 – CABA
Teléfono: +54 11 3220-3900
UNIQUE ART MADERO U$S 60.- + tax
https://www.hotels-unique.com/en/hotels/uniqueartmadero/
Dirección: Chile 80 – CABA
Teléfono: + 54 11 4788-1675
*Los precios son por noche, en base single, para los días que cada participantes elija quedarse en total. No hay número mínimo de noches por participante.
Locación y Atracciones
UBICACIÓN DE LA CONFERENCIA
Universidad Católica Argentina
Auditorio San Agustín y edificio San José
Dirección: Av. Alicia Moreau de Justo 1300  – Buenos Aires – Argentina
http://www.uca.edu.ar/index.php/home/index/es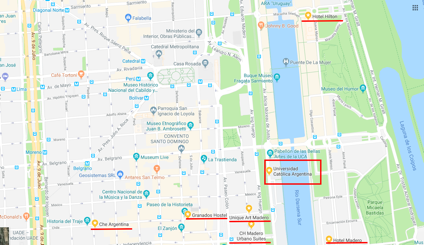 Bancos y cambio de divisa
Para cambiar dinero en las casas de cambio oficiales y bancos es necesario presentar pasaporte.
Los bancos atienden de lunes a viernes de 10 a 15 horas. Son muy pocas las casas de cambio que atienden los fines de semana. Estas se encuentran en la zona de Microcentro (en calle Florida cercana a la oficina) y Recoleta. No tienen horario fijo, en general trabajan de 10 a 15hs al igual que los bancos.
No se recomienda cambiar en la calle ni en taxis, dado que existen reportes de entrega de dinero falso.
Bancos/Cajeros automáticos en los aeropuertos
Existe una sucursal del Banco Nación en la Terminal A del Aeropuerto de Ezeiza (atención las 24 hs).
Ambos aeropuertos cuentan con cajeros automáticos en los cuales puede retirarse dinero en divisa local.
Transporte
Información del viaje
Formalidades de entrada a la Argentina
Pasaporte: en vigor, con o sin visado, según los casos. Consulte en su embajada o consulado más próximo.  En el siguiente sitio web podrá encontrar información en español sobre las representaciones argentinas en el exterior http://www.mrecic.gov.ar/representaciones
Tasa de Reciprocidad: los/as ciudadanos/as de Estados Unidos, Canadá y Australia que visiten el país por turismo o negocios, antes de viajar a la Argentina deben pagar -como requisito de ingreso- la denominada Tasa de Reciprocidad. La misma se abona online, previo vuelo, ingresando a  http://www.migraciones.gov.ar/accesible/templates/reciprocidad/reciprocidad.htm
Arribo a Buenos Aires
El ingreso por vía aérea al país se realiza a través de 2 aeropuertos:
EZE-Aeropuerto Internacional Ezeiza: la mayoría de las compañías aéreas que vuelan a la Argentina llegan al aeropuerto internacional de Ezeiza "Ministro Pistarini", situado a 37 Km de la ciudad de Buenos Aires, Capital Federal. Está unido a ella por la autopista Teniente General Ricchieri.
AEP-Aeroparque Jorge Newbery: a este aeropuerto, cercano al centro de la Ciudad de Buenos Aires, llegan en general los/as turistas de los países vecinos (Mercosur).
Para consultas sobre vuelos de ambos aeropuertos llamar a: (54 11) 5480 6111 o consultar el siguiente sitio web: http://www.aa2000.com.ar
Transportes de ida y vuelta al Aeropuerto Internacional Ezeiza
 Aeropuerto Internacional Ezeiza
Servicio de remise/taxi privado
 1-Manuel Tienda León: Se puede solicitar con 24hs de anticipación por e-mail, o bien tomarlo en el momento. Punto de Venta: Terminal A, B y C / Arribos.
Teléfonos: (5411) 4314 3636 / 4315 5115 y 0810 888 LEON (5366)
e-mail: informes@tiendaleon.com.ar
Forma de pago: en efectivo, tarjeta y/o moneda extranjera (euro/ dólar) al cambio oficial.
 2-Vip Cars: Puntos de venta: Terminal A / Arribos
Teléfonos: (54 11) 5480 4594
Forma de pago: en efectivo, tarjeta y/o moneda extranjera (euro/ dólar) al cambio oficial.
Curso corto de HDCA
27 y 28 de agosto de 2018
Universidad Católica Argentina (UCA), Buenos Aires
Ya está abierta la inscripción para el Curso corto de HDCA – Haga click aquí para inscribirse.
Programa del Curso corto de la HDCA
Nos complace anunciar que, este año, del Curso corto de la HDCA tendrá lugar los días lunes y martes 27 y 28 de agosto de 2018, previo al comienzo de la conferencia anual en Buenos Aires, Argentina. El curso tiene como objetivo desarrollar en los/las participantes el conocimiento y comprensión de los conceptos clave de desarrollo humano, con atención especial en el enfoque de capacidades. Será conducida por un equipo de la HDCA que incluye a Caroline Sarojini Hart, Sridhar Venkatapuram y Graciela Tonon, junto con otros/as profesores especialmente invitados/as. El programa incluirá sesiones sobre la naturaleza del desarrollo humano; los conceptos fundacionales de los enfoques de desarrollo humano y capacidades; y las temáticas de desigualdades y capacidades, educación, salud y comunidades. Habrá también sesiones en modalidad taller sobre métodos de investigación en desarrollo, con oportunidades para que los/las participantes presenten y discutan sus propios proyectos e ideas. Los/las participantes aceptados recibirán instrucciones de preparación previas al curso. Todas las sesiones serán en inglés.
Condiciones de participación
El programa está dirigido específicamente a quienes ya poseen conocimientos en cuestiones de desarrollo y el enfoque de capacidades. Para poder participar, se necesita ser investigadores/as de doctorado o posdoctorado (hasta dos años antes de la graduación) ya trabajando con el enfoque de capacidades, que asistan a la conferencia de la HDCA en Buenos Aires (una inscripción diferente será requerida). En caso de duda acerca de estas condiciones de participación, por favor escribir a Caroline Hart (c.hart@sheffield.ac.uk).
Lugar
El Curso corto de la HDCA tendrá lugar en las instalaciones de la Universidad Católica Argentina (UCA), en Buenos Aires, Argentina. El programa dará comienzo a las 9.30 del lunes 27 de agosto, y terminará con la Cena del Curso corto de HDCA, el martes 28 de agosto alrededor de las 21:00.
Transporte
Para obtener información sobre cómo llegar al campus de la Universidad desde los aeropuertos de Buenos Aires, por favor visite el sitio de la conferencia en https://hd-ca.org/conferences/conferencia-hdca-2018#anchor10.
Alojamiento
Para recibir sugerencias de alojamiento, por favor visite el sitio de la conferencia en https://hd-ca.org/conferences/conferencia-hdca-2018#anchor8. Si Ud. está interesado/a en compartir alojamiento con otros/as participantes del Curso corto de la HDCA, por favor indíquelo en su inscripción.
Inscripción
El costo del Curso corto de la HDCA será de USD 70, y las plazas serán atribuidas por orden de inscripción y pago. La inscripción y pago se realizan online, junto con el proceso de inscripción para la conferencia, aproximadamente desde mediados del mes de abril de 2018.
El costo de inscripción incluye la participación en ambos días de encuentro, los materiales de trabajos, refrescos, dos almuerzos y una cena. No incluye gastos de viaje o alojamiento, que los participantes deben organizar de acuerdo a sus posibilidades. Si bien hay una amplia variedad de opciones de alojamiento y de transporte público de buena calidad en el área, para alternativas de menor costo puede ser necesario recorrer importantes distancias, que deben ser tenidas en cuenta al momento de hacer los respectivos arreglos de viaje.
Si le ha sido otorgada una beca para asistir a la conferencia principal de la HDCA, un reembolso de hasta USD 100 le será concedido para cubrir los costos relativos a la participación en el Curso corto de la HDCA (pagaderos luego de la inscripción).
Por favor tenga en cuenta que las plazas disponibles para el Curso corto de la HDCA son limitadas, y en general se ocupan muy rápidamente. Tendrán prioridad los/las participantes que nunca hayan asistido a un Curso corto de la HDCA.
El equipo del Curso corto de la HDCA
Caroline Sarojini Hart, HDCA Education Officer
Sridhar Venkatapuram, HDCA Officer at Large
Graciela Tonon, HDCA Secretary