2018 HDCA Conference – Buenos Aires, Argentina
HDCA 2018 Conference
Ver la página web de la Conferencia en Español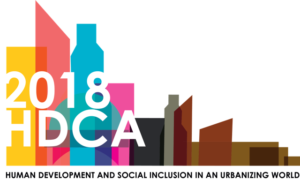 "Human Development and Social Inclusion
in an Urbanizing World" 
August 30-September 1, 2018
Buenos Aires, Argentina
The 2018 HDCA Program Committee cordially invites scholars, government policy makers, practitioners and other interested parties from all over the world to participate in the 2018 HDCA conference.  Original empirical research, theoretical issues, case-studies or reports of experiences, or findings from major research projects, and book panels relevant to conference theme or more broadly related to human development/capabilities approach will be presented.
Please use the conference menu on the right to find more information. The conference organizers can be contacted at hdca2018@uca.edu.ar.
Privacy Policy
HDCA respects your privacy and will not sell or share information collected.  Our payments are processed through First Data which is a secure payment processor for businesses.
Refund Policy
Conference registration and payment will open up to 5 months in advance of the conference and registration will not be complete until payment has been received. Once payment has been processed, you will receive an email with confirmation.  Registration will close once all available spots have been filled. All registrations are final. No refunds will be issued,  unless there are extenuating circumstances (e.g. serious illness or death of close relative). Requests for refunds must be received prior to the start of the conference. There are no refunds for payments of membership dues.
Conference Theme
"Human Development and Social Inclusion in an Urbanizing World"
Today more than half of the world's population lives in urban areas and the share is expected to reach 66 per cent by 2050. While the intense social, cultural and economic interaction implied by the agglomeration of people in cities offers diverse benefits for human and economic development it also poses numerous challenges. Social fragmentation, spatial segregation and the widespread growth of informal settlements, or slums, reflect the persistence of social and economic inequality in the context of the expansion of cities. The rapid demographic shifts and resulting urban sprawl, coupled with the environmental stresses caused by cities, hinder the adequate provision of public services and effective urban governance. The recent flow of immigrants from poor and unstable countries to the cities of developed nations present new obstacles to economic, social and cultural participation in the Global North. All of these trends challenge governments and society as a whole to find new ways to foster human development and social inclusion for all.
Latin America, as the most unequal and urbanized region of the world, with the largest concentration of megacities, is a particularly relevant place to host the conference. Issues such as residential segregation, urban inequality, social marginalization and exclusion, violence, addictions, environmental degradation, among others, have acquired particular relevance in the region and their origins are rooted not only in the urbanization process but also complex historical, political and cultural factors. The continent also has produced relevant innovations in the design of social safety nets (for example, conditional cash transfers) and policies to foster urban integration.
The 2018 Conference theme proposes to analyse these urban issues through the lens of the capability approach and human development framework and in light of global experiences. It will examine how the approach can provide innovative tools and criteria to assess quality of life and how its conditions are distributed in the context of cities. The conference will also examine how the capability approach can contribute to critically thinking on how to design adequate policies to achieve the Sustainable Development Goals, especially goal 11: Make cities inclusive, safe, resilient and sustainable. It can also frame the discussion on how to address the Urban Agenda set out by UN-Habitat III: 1) ending poverty in all its forms and dimensions by ensuring equal rights and opportunities, socio-economic and cultural diversity, integration in the urban space; 2) achieving sustainable and inclusive urban economies by promoting full and productive employment and decent work for all and 3) promoting environmental sustainability, by promoting clean energy, sustainable use of land and resources in urban development.
Host Information/Committees
The 2018 HDCA Conference is hosted by hosted by the Pontificia Universidad Católica Argentina (UCA) in collaboration with FLACSO-Argentina in Buenos Aires, Argentina. The organizers can be reached at hdca2018@uca.edu.ar.
Program Committee

Chair: Beatriz Balian de Tagtachian, National Academy of Education (Argentina)
Ann Mitchell, Pontificia Universidad Católica Argentina
Ana Lourdes Suarez, Pontificia Universidad Católica Argentina/CONICET
Eduardo Lépore, Pontificia Universidad Católica Argentina
Pablo Vinocur, FLACSO-Argentina
Ingrid Robeyns, Utrecht University
Veronica Crosbie, Dublin City University
Luis Felipe Lopez Calva, World Bank
Enrica Chiappero-Martinetti, University of Pavia
Graciela Tonon, Univ. Nacional de Lomas de Zamora & Univ. de Palermo
Local Organizing Committee
Chair: Beatriz Balian de Tagtachian, National Academy of Education (Argentina)
Ann Mitchell, Pontificia Universidad Católica Argentina
Ana Lourdes Suarez, Pontificia Universidad Católica Argentina/CONICET
Eduardo Lépore, Pontificia Universidad Católica Argentina
Juan Cruz Hermida, Pontificia Universidad Católica Argentina
Pablo Vinocur, FLACSO-Argentina
Luciano Andrenacci, FLACSO-Argentina
Maria Emma Santos, Universidad Nacional del Sur (Argentina)
Severine Deneulin, University of Bath
Alejandra Segura, Cre-Ser Foundation
Cristina Calvo, Universidad de Buenos Aires
Call for Papers & Deadlines
Please submit your proposed poster, paper, or panel, via the submission site: (http://www.conftool.pro/hdca2018/ using the appropriate form.
If you encounter problems with the online submissions system, please email the conference organizers at:  hdca2018@uca.edu.ar.
In order to ensure academic quality, all submissions will be reviewed by two reviewers, at least one of whom is an HDCA Fellow or a senior researcher in the field.
Important Deadlines
February 28, 2018 – Extended Deadline for Submission of proposals
April 15, 2018 – Announcement of acceptance/rejection
June 30, 2018 (extended) – Deadline for conference registration at early-bird rates
July 15, 2018 – Submission of full papers/posters
August 15, 2018 – Final deadline for conference registration at standard rates
Keynote Speakers
Ravi Kanbur, Cornell University
"Urbanization: A Disaggregation"
Ravi Kanbur researches and teaches in development economics, public economics and economic theory. He is well known for his role in policy analysis and engagement in international development. He has served on the senior staff of the World Bank including as Chief Economist for Africa. He has also published in the leading economics journals, including Journal of Political Economy, American Economic Review, Review of Economic Studies, Journal of Economic Theory and Economic Journal.
He is President of the Human Development and Capabilities Association, Chair of the Board of United Nations University-World Institute for Development Economics Research, Co-Chair of the Scientific Council of the International Panel on Social Progress, member of the OECD High Level Expert Group on the Measurement of Economic Performance, Past-President of the Society for the Study of Economic Inequality, past member of the High Level Advisory Council of the Climate Justice Dialogue, and past-member of the Core Group of the Commission on Global Poverty.
Santiago Levy, Interamerican Development Bank
Ul Haq Memorial Lecture
"Informality and Social Inclusion"
Santiago Levy is the Vice-President for Sectors and Knowledge at the Inter-American Development Bank, and before that Chief Economist. Previously, he was General Director at the Mexican Social Security Institute (IMSS) from December 2000 to October 2005. From 1994 to 2000, Levy served as the Deputy Minister at the Ministry of Finance and Public Credit of Mexico, becoming the main architect of the renowned social program Progresa-Oportunidades that benefits the poor. He holds a Ph.D. in economics and a Masters in political economy from Boston University. He was a post-doctoral fellow at Cambridge University. Mr. Levy has advised several governments and international organizations and has held several teaching positions, including faculty positions at the Instituto Tecnológico Autónomo of Mexico and Boston University, where he was Associate Professor and Director of the Institute for Economic Development. He is the author of at least 80 articles, monographs and book chapters on such diverse subjects as poverty reduction, competitiveness, foreign exchange policy, export imbalances, pricing, microeconomics and energy. His paper Poverty in Mexico won the 1992 National Research Prize in Economics awarded by the Bank of Mexico. His recent published books are:  No Growth without Equity? Inequality, Interests and Competition in Mexico (edited with Michael Walton), Palgrave-Macmillan and the World Bank, 2009; Good Intentions, Bad Outcomes: Social Policy, Informality, and Economic Growth in Mexico, Brookings Institution Press, 2008; Progress Against Poverty: Sustaining Mexico's Progresa-Oportunidades Program, Brookings Institution Press, 2006; Sin Herencia de Pobreza, Editorial Planeta, 2005 (with Evelyne Rodríguez); and Ensayos sobre el Desarrollo Económico y Social de México, Fondo de Cultura Económica, Mexico, 2004.
Alejandro Portes, Princeton University
Amartya Sen Lecture
Alejandro Portes is Howard Harrison and Gabrielle Snyder Beck Professor of Sociology (emeritus) at Princeton University and Professor of Law and Distinguished Scholar of Arts and Sciences at the University of Miami. He is the founding director of the Center for Migration and Development at Princeton. Formerly, he taught at Johns Hopkins University, where he held the John Dewey Chair in Arts and Sciences; Duke University, and the University of Texas-Austin. In 1997, he was elected president of the American Sociological Association and served in that capacity in 1998-99. Born in Havana, Cuba, he came to the United States in 1960. He was educated at the University of Havana, Catholic University of Argentina, and Creighton University. He received his M. A. and Ph. D. from the University of Wisconsin-Madison. Portes is the author of more than 250 articles and chapters on national development, international migration, Latin American and Caribbean urbanization, and economic sociology. He has published 40 books and special issues. His books and articles have been translated into Spanish, Portuguese, Italian, Chinese, and Japanese. Ten volumes of his collected essays have been published in English, Spanish, and Portuguese. His most recent articles have appeared in the American Sociological Review, Social Forces, Annals of the American Academy of Political and Social Sciences, Proceedings of the National Academy of Sciences, International Migration Review, Population and Development Review, and the British Journal of Sociology.  His current research is on the adaptation process of the immigrant second generation in comparative perspective, the role of institutions on national development, and the comparative study of immigrant transnational organizations. Portes is a former fellow of the Center for Advanced Studies in the Behavioral Sciences and of the Russell Sage Foundation.
Avner De-Shalit, Hebrew University of Jerusalem
"Cities, Immigrants and Having a Sense of Place"
Avner de Shalit is the Max Kampelman Professor of Democracy and Human Rights at the department of political science, the Hebrew University of Jerusalem. Since his D.Phil. in Oxford (1990) he has been working on environmental philosophy, urban political theory, and issues of poverty and inequality. He is the author of eight books, among them Why Posterity Matters (Routledge), The Environment: Between Theory and Practice (Oxford UP), Disadvantage (Oxford UP, co-authored with Jonathan Wolff), The Spirit of Cities (Princeton UP, co-authored with Daniel Bell), and most recently Cities and Immigration (Oxford UP, forthcoming). Avner served as head of department and also as dean of the Faculty of Social Sciences at the Hebrew University. In 2014 he was awarded the Rothschild Prize in the Social Sciences. In Israel he has been politically active in social and environmental issues, and also in campaigning for the political rights of Palestinians.
Ingrid Robeyns, Utrecht University
What, if anything, is wrong with being super-rich?
Ingrid Robeyns is president-elect of the Human Development and Capability Association and holds the chair in ethics of institutions at Utrecht University. Trained in economics and philosophy, she works on questions of social and distributive justice, applied to a wide area of issues, including in the areas of gender, disability, global inequalities, and environmental concerns. She is currently directing a 5-year project on the question whether there should be upper limits to how many economic and ecological resources each person should be allowed to appropriate. She has also published widely on the (theoretical foundations of) the capability approach, most recently in her Open Access book Wellbeing, Freedom and Social Justice (Open Book Publishers 2017). More details can be found at www.ingridrobeyns.info.
Plenary panel on Power, Inequality and Justice: A Latin American perspective (panelists: Fernando Calderon, Sonia Fleury, Javier Iguiñiz, José Nun)
Fernando Calderón is a Sociologist from the University of Chile, has a Master's in Social Sciences from FLACSO and a Doctorate in Sociology from L'Ecole des Hautes Ètudes in Paris. He is currently Simon Bolivar Chair at the University of Cambridge (2017/2018), Director of the Program "Innovation, Development and Multiculturalism" at the National University of San Martin (Argentina), professor of Human Development at FLACSO-Argentina and at the University of Córdoba, Argentina. He has taught at several universities in the United States (Austin, Chicago, Berkeley, and Cornell), Europe (University of Barcelona, Open University of Catalonia), and Latin America (in Bolivia, Mexico, Ecuador, Puerto Rico, Venezuela, and Chile). He was Executive Secretary of Latin American Social Science Council (CLACSO), Social Policy Adviser of the Economic Commission for Latin America and the Caribbean (ECLAC) and Special Adviser on Human Development and Governance for the United Nations Development Program. He was Coordinator and Senior Adviser in over ten Human Development Reports in several countries of Latin America, Europe and Africa, at national, sub-regional and global levels. In 2000 and 2002, the Bolivian Human Development Reports, which he coordinated, received global awards. He has authored 23 books and edited 34 volumes on democracy, culture and development.
Sonia Fleury is a Psychologist from the Universidad Federal de Minas Gerais, has a Master's in Health Sociology and a Doctorate in Political Science from the Instituto Universitario de Pesquisas of Río de Janeiro, Universidad Cándido Mendes, Brazil. She works on topics related to the construction of democracies, citizenship, social rights, social security and social protection, the reform of social systems in Latin America, subjectivity and exclusion, among others.  She has been a professor at the Universidad Federal de Minas Gerais, professor and researcher at the National School of Public Health of the Oswaldo Cruz Foundation and professor at the Institute of Economic and Social Development of the Interamerican Development Bank, the Brazilian School of Public Administration and of the Getulio Vargas Foundation. She has also been a visiting professor and lecturer at several universities in Latin America and Europe. She has authored 12 books, 70 book chapters and 134 articles on democracy and social policy.
Javier Iguiñiz Echeverría is an Electrical Engineer from the Universidad Nacional de Ingenieria (Peru), has a Master's of Science in Economic Sciences from Iowa State University and a PhD in Economics from the New School for Social Research. He is emeritus professor and teaches in the Department of Economics at the Pontificia Universidad Católica del Peru. He currently is Executive Secretary of the Acuerdo Nacional and president of the Instituto de Desarrollo Humano de America Latina (IDHAL). He has published around thirty books and numerous articles. The most recent ones include: "Derechos Humanos y pobreza extrema: distancias y acercamientos"; "La verdad nos hace libres. Sobre las relaciones entre filosofía, derechos humanos, religión y universidad"; "Inclusiones y desarrollo humano: relaciones, agencia, poder"; "The Muldimensionality of Poverty"; y "Poder, rigor y efectividad de una idea: el caso de la informalidad de los pobres".
José Nun is a lawyer and specialist in economic development (University of Buenos Aires) with postgraduate degrees in sociology and political science (University of Paris). He has been an adjunct professor at the University of California at Berkeley, project director at ILPES/CEPA and the Instituto Di Tella, professor at the University of Chile and FLACSO-Mexico and during 1970-1993 professor of political science at the University of Toronto, Canada. Since 1984 he has been a senior researcher of CONICET. He created the Latin American Center for the Analysis of Democracy (Buenos Aires) and in 1998 founded the Institute of Higher Social Studies at the National University of San Martin (Buenos Aires), where he directs the doctoral program in sociology. He also chairs the Foundation of Higher Social Studies. Between 2004 and 2009 he was Secretary of Culture of the National Government of Argentina. He received a Guggenheim scholarship, an honorable doctorate from the National University of San Martin, the Order of the Liberator Bernardo O'Higgins, an Honorable Mention from the National Senate of Argentina, among others. His published books include: América Latina: la crisis hegemónica y el golpe militar (1969); La marginalidad en América Latina (1969) ; (con J. C. Portantiero) La transición democrática en la Argentina  (1987) ; La rebelión del coro (1989); Crisis económica y despidos en masa (1989); El gobierno de Alfonsín y las corporaciones agrarias (1991); Marginalidad y exclusión social (2001); La desigualdad y los impuestos  (2011); Democracia: ¿gobierno del pueblo o gobierno de los políticos? (2010; ed. rev. 2015); and  El sentido común y la política (2015).
Plenary panel on Urbanization and Integration of Informal Settlements (panelists: Nora Libertun of the Inter-American Development Bank, Pablo Lopez of CAF-Latin American Development Bank and Carole Megevand of the World Bank)
Nora Libertun de Duren is an urban development and housing expert at the Inter-American Development Bank (IADB), where she leads research activities on urban issues. Nora has comprehensive research and operational experience in the topics of housing, urban public space, urban growth and sustainable development. She has lectured about these topics in many universities and will be teaching at Harvard University next fall. Prior to joining the IADB, she was the Director of Planning at New York City's Department of Parks and Recreation, where she led a citywide strategy for creating sustainable and accessible public spaces. She has authored papers published in peer reviewed journals, including Housing Policy Debates, Planning Journal of Education and Research, International Journal of Urban and Regional Research, City and Community, Urban Studies, Cities and International Journal of Housing Policy. She has been the MIT Journal of Planning editor, and the co-editor of Cities and Sovereignty: Identity Politics in Urban Spaces (Indiana University Press, 2011). Nora has been the recipient of various awards, including a Fulbright Fellowship, a Harvard Fellowship, an MIT Presidential Scholarship, an MIT prize for outstanding PhD Dissertation in Planning, and the University of Buenos Aires Highest Achievement medal. Nora holds a PhD in Urban Planning from the MIT; a Master in urban design from Harvard University and in Architecture from the University of Buenos Aires.
Pablo López is Chief Executive Officer at the Vice Presidency of Social Development of CAF-Latin American Development Bank. He specializes in the formulation and management of social infrastructure projects with emphasis on urban development projects. His areas of professional interest are focused on urban and regional development planning, the relationship between infrastructure investments and development and the link between urban policies and land use. He has worked as a policy advisor on a range of regional and urban policies in Argentina and England and during the last 20 years he has been involved in urban and regional projects in Brazil, Paraguay, Argentina and Bolivia.  Pablo holds a Master in Urban Planning from the University of London and a Master in Public Administration and a degree in Civil Engineering from the National University of Córdoba, Argentina.
Carole Megevand has more than 20 years of professional experience in International Development across various regions in the world. She holds two Master degrees respectively in Agricultural Economics and Environment/Natural Resources Economics. After gaining experience in NGOs and consultancy firms, she joined the World Bank in 2002 and since then has managed various complex operations on Natural Resources, with a specific focus on inter-sectoral dimensions and governance issues. She is currently the Program Leader for Sustainable Development for the World Bank for the Southern Cone region (covering Argentina, Paraguay and Uruguay), where her responsibilities span various sectors, including Infrastructure (Transport, Energy and Water), Urban, Agriculture, Climate Change and Social. Her international experience in the developing world includes three long-term assignments (Tunisia, Cameroon and now Argentina) and missions in more than 15 countries in Africa, Middle East-North Africa and Latin America. She has authored major pieces of analytical work with a specific focus on multi-sectoral solutions to sustainable development.
Pre-conference Events
All pre-conference events will take place on Wednesday, August 29, 2018.
9am – 1pm
Operationalizing the Capability Approach in Qualitative Research:
A workshop for postgraduate students
Alicia Moreau de Justo 1600, UCA campus
Are you a postgraduate student trying to organize and analyze your empirical qualitative data?  If so, this workshop will be a great way to meet and work with other students who are trying to operationalize the Capability Approach. In this half-day workshop, postgraduate students will have a forum that will be both instructive and interactive.  We will begin the workshop with an established academic presenting a case study of how he/she has analyzed his/her own data and learn how he/she has operationalized the CA.
The second part will allow you time to work with another postgraduate student under the guidance of our expert to present your qualitative data analysis strategies and figure out how you might best proceed through data analysis.  Working with another postgraduate student will give you time to practice imagining the operationalization of the CA in your data analysis.  We expect this workshop to help you proceed, giving you confidence and experience in handling your data and moving forward in your analysis and write up processes.
For this workshop we request that postgraduates do the following:
To register, complete this quick online survey so we can best match you with a partner for the workshop part of this pre-conference at https://goo.gl/forms/uZXnAoXNIucrc3pk2
Bring to the workshop the following:

Pieces of your own data to analyze such as transcripts, fieldnotes, participant artwork etc.
The theoretical framework or mechanism within the CA that you are using to analyze your data such as a coding scheme or graphic organizer etc.
Enthusiasm and an open mind!
Contact: Jacqueline Gallo – Jcg65@cam.ac.uk, Marcelo Mosaner – marcelo7m@gmail.com
9:30am – 6pm
Ethics and Development in Times of Growing Authoritarianism
Tucumán 1966, FLACSO
This event will explore a set of problems and topics relevant to the ethics of development in Latin America and other regions. The program is available here. It will begin with a lecture by Prof. Maristella Svampa (Universidad Nacional de La Plata) titled "Neo-extractivism, social-environmental conflicts and new forms of dependence in Latin America", followed by a workshop on "Poverty and Philosophy: a Latin American perspective". The event will conclude with the launch of the Routledge Handbook of Development Ethics, edited by Jay Drydyk and Lori Keleher. The Handbook is a tremendous collective accomplishment by an extensive network of contributors, both from HDCA and from the International Development Ethics Association (IDEA). The central idea is that the differences between good development and bad development are value-based. The values that define good development include well-being, equity or social/global justice, agency and empowerment, environmental sustainability, advancement of human rights, cultural freedom, and responsibility/integrity. This session includes two roundtable discussions by contributors to the Handbook. In the first, panelists will discuss what development ethics is, and how the capability approach has contributed to it. In the second, panelists will consider how development ethics and the capability approach should respond to the development model of 'competitive authoritarianism'.
The event is free of charge and open to the general public as well as to HDCA Conference participants. We especially encourage the participation of graduate students and members of minority groups. Lunch and refreshments will be provided throughout the day.
Register at: https://www.eventbrite.co.uk/e/ethics-and-development-in-times-of-rising-authoritarianism-tickets-45675455517
Contacts: Dr. Johannes Waldmuller johannes.waldmuller@graduateinstitute.ch;
Dr. Krushil Watene
K.Watene@massey.ac.nz
10 am – 1 pm
Remembrance and human rights center
Av. del Libertador 8151
The Human Rights Thematic Group is organizing a site visit to the Remembrance and Human Rights Centre (Espacio para la Memoria y para la promoción y defense de los Derechos Humanos – Espacio Memoria).
The Escuela Mecanica de la Armada (ESMA) was one of the main clandestine detention centers for the last civilian-military dictatorship which ruled Argentina between 1976 and 1983. Since 2004, its grounds were transformed into a Remembrance and human rights Centre where activities are organized with the purpose of preserving the memory and promoting human rights. We are planning a group visit with English-speaking guide from the Centre. Admission is free. For more information: http://www.espaciomemoria.ar/descargas/diptico_english.pdf
Depending on your interest, we will also organize a roundtable with professionals working on the intersection between human rights and human development with a focus on economic, social and cultural rights. This would take place in the afternoon of August 29.

Those interested in the visit and/or roundtable are asked to contact Leonardo, a co-coordinator of the group: leonardocastilho@hotmail.com
1pm – 5pm
Capability of Being Healthy: Child Nutrition and Inequality
Alicia Moreau de Justo 1600, UCA campus
In the first part of this workshop organized by the Children and Youth Thematic Group will analyze the complex mechanisms through which territorial inequalities may influence children nutrition and their capability of staying healthy. We will address the following questions: What types of achieved functionings are part of people's capability of being healthy? What types of interlocking connections were identified by researchers and practitioners as key to accessing opportunities to break the health inequalities that affect children? This session will open a discussion regarding the programs and policies on children nutrition that could improve the existing or future interventions that aim at advancing health and welfare of children and youth in socioeconomically unequal territories. Then, in the second part of this workshop, we will facilitate an exchange of views between scholars and practitioners with respect to the implementation policies of new health programs for children. We will discuss the challenges of targeting children and youth using incentives and motivations, as well as the novelties in the communication process that supports the delivery of health programs. The following question will guide this discussion: How large are the functioning gaps and capabilities of breaking the barriers or shifting the events/factors that have driven children malnutrition in territories with an elevated level of territorial inequality in terms of resources and opportunities?
Confirmed presenters: Amalia Palma (ECLAC-UN), Maria Fernanda Awapara (UN-Peru), Sebastian Carrasco (UNICEF), Rodrigo López (PUC), Claudia Frias (PUC), Claudio Canales (Chilean Government), and Mario Biggeri (University of Florence and Action Research for CO-Development).
Register here: https://docs.google.com/forms/d/e/1FAIpQLSf1xMAz8T2lxnXlUcU94jG8MXujx3ZF9nzPrR_FqViWtItBgg/viewform?c=0&w=1 Contact: Elizabeth Rivera – erivera@brandeis.edu; Caterina Arciprete – caterina.arciprete@unifi.it: Robin Vos – robin.vos.bordeaux@gmail.com and Rafael Ciula – raffaeleciula@libero.it
3pm – 6pm
ALCADECA meeting
Alicia Moreau de Justo 1600, UCA campus
The Latin American and Caribbean Association for the Study of Human Capabilities (Asociación Latinoamericana y de El Caribe para el Estudio del Enfoque de las Capacidades Humanas – ALCADECA) is an HDCA regional network that gathers Latin American researchers and practitioners interested in the human development and capability approach. The main purpose of this pre-conference workshop is to create a space for dialogue among ALCADECA members and other HDCA colleagues in order to increase the Association's outreach to other researchers interested in Latin America and attend the HDCA meeting in Buenos Aires.  Our hope is that this pre-conference workshop will strengthen the Latin American regional network of HDCA. In particular, the pre-conference workshop will address three specific goals: (i) facilitate a dialogue around recent experiences, opportunities and challenges related to the human development and the capability approach in Latin America and The Caribbean, (ii) discuss preliminary ideas about the main theme, program and organizational aspects of ALCADECA 2019, and (iii) validate the first version of the Regional Directory of Human Development Researchers in Latin America (DHAL-Net) that is being prepared by IDHAL-PUCP.
The workshop is being collaboratively organized by Izete Bagolin, Flavio Comim, Javier Iguíñiz, Graciela Tonon, Silvana Vargas and Andrea Vigorito. To register please send an email with the subject "2018 HDCA – ALCADECA meeting" to idhal-pucp@pucp.edu.pe
3pm – 4pm
Global Health, Justice and Governance Book Launch
Alicia Moreau de Justo 1600, UCA campus
The HDCA Health & Disability Thematic group is pleased to invite you to the launch of Jennifer Prah Ruger's book Global Health Justice and Governance. The author's presentation will be followed by a roundtable with discussants and a Q&A session.
In a world beset by extreme and unconscionable health disparities humankind desperately needs a new vision to ensure central health capabilities for all. Yawing gaps in health law, dangerous contagions that can circle our globalized planet in hours, and a bewildering confusion of health systems are all profound challenges requiring urgent address. Global Health Justice and Governance presents the critical problems facing the world today and offers a new theory of justice and governance as a way to resolve these seemingly intractable issues. A fundamental responsibility of government is to ensure human flourishing. The central role that health plays in this flourishing place a unique claim on our public institutions and resources, as central health capabilities are pressed to reduce premature death and prevent avoidable morbidities. In a world of staggering inequalities, imperiling epidemics, and inadequacies of current models a new architecture of central health systems is desperately needed. Global Health Justice and Governance lays out a vision for achieving this important change.
Jennifer Prah Ruger is a leading scholar of global and domestic health policy and public health. She is currently the Amartya Sen Professor of Public Health Equity, Economics, and Policy; Associate Dean for Global Studies; and Faculty Chair at the Center for High Impact Philanthropy at the University of Pennsylvania. Dr. Ruger has authored over 100 publications and is internationally recognized for her leadership and work, which has been cited by the United Nations, World Bank, World Health Organization and United States Government.
Register at: https://goo.gl/forms/i7CVfpt4YcCBaIjG2 Contacto: Giulia Greco – Giulia.Greco@lshtm.ac.uk.
6:30pm – 8:30pm
Book launch of the Latin American Human Development textbook
Tucumán 1966, FLACSO
ALCADECA will launch the textbook on human development in Latin America, titled Introducción al Enfoque de las Capacidades: Aportes para el Desarrollo Humano en América Latina, co-published by the editorial PUCP (Lima, Peru) and Manantial-FLACSO Argentina, and edited by Severine Deneulin, Jhonatan Clausen and Areli Valencia. The event will include a panel with three invited discussants, followed by a reception. The event will be entirely in Spanish.
Introducción al Enfoque de las Capacidades: Aportes para el Desarrollo Humano en América Latina is a Spanish translation and Latin American adapted version of the textbook An Introduction to the Human Development and Capability Approach published in 2009. Each of the translated original chapters is accompanied by an additional chapter which treats the topic from a Latin American perspective. The chapter on education has a companion chapter on education and social justice in Latin America, the one on democracy has a companion chapter on inequality and populism, and the chapter on equity and justice has an annex chapter on relational egalitarianism and the transmission of injustice in the Latin American context. There are also new chapters on collective capabilities, the measurement of multi-dimensional poverty in Latin America, buen vivir and sustainability, economic growth and income equality, and an analysis of conditional cash transfers from a human development perspective.
This activity is organized by ALCADECA in coordination with FLACSO and the Institute for Human Development of Latin America based at Pontificia Universidad Católica del Perú (IDHAL PUCP). To register please send an email with the subject "Latin American Human Development textbook launch" to idhal-pucp@pucp.edu.pe. Contact: Silvana Vargas – idhal-pucp@pucp.edu.pe
Registration, fees & scholarships, visa information
Students and scholars from low- and mid-income countries will pay a significantly reduced registration fee, as the following schedule indicates. The early rates are available through June 15, after which standard rates will apply:
Professional, high-income country, early ($380)
Professional, high-income country, standard ($430)
Professional, low- or mid-income country, early ($190)
Professional, low- or mid-income country, standard ($240)
Student, high-income country, early ($190)
Student, high-income country, standard ($240)
Student, low- or mid-income country, early ($90)
Student, low- or mid-income country, standard ($130)
Please note that the registration fee provides a year's membership in the HDCA, which includes a year's subscription to the Journal of Human Development & Capabilities.
Please use the attached World Bank classifications to identify low, middle and high-income countries.COUNTRY CLASSIFICATION FOR REGISTRATION
Scholarships for young researchers (35 and under).
The HDCA has limited funds to provide some support for young scholars (35 or under) to attend this year's conference. Scholarships have an upper limit of $1,000 and average $500. If you are interested in receiving a scholarship please indicate this when you submit your abstract for review (deadline 15th February). As there are many scholars who are interested in receiving funds we request that people only apply if obtaining a scholarship will make the difference between attending or not.
The general criteria are: Merit (average review scores) and financial need.
VISA INFORMATION
People from the following countries DO NOT require a VISA to enter ARGENTINA as tourists:
A) For up to 90 days:
Andorra, Armenia, Australia, Austria, Barbados, Belarus, Belgium, Bolivia, Brazil, Bulgaria, Canada, Colombia, Costa Rica, Croatia, Czech Republic, Chile, Cyprus, Denmark, Ecuador, El Salvador, Estonia, Estado Ciudad del Vaticano, Finland, France, Georgia, Germany, Greece, Guatemala, Guyana, Haiti, Honduras, Hong Kong (With Passport R.A.E.H.K.), Hungary, Ireland, Iceland, Israel, Italy, Japan, Korea Republic, Latvia, Liechtenstein, Lithuania, Luxembourg, Macedonia, Malta, Mexico, Monaco, Montenegro, Nicaragua, Norway, New Zealand, Netherlands, Panama, Paraguay, Peru, Poland, Portugal, Romania, Russian Federation, Saint Kitts and Nevis, San Marino, Santa Lucia, Saint Vincent and The Grenadines, Serbia, Singapore, Slovak Republic, Slovenia, South Africa, Spain, Sweden, Suriname; Switzerland, Thailand, Trinidad and Tobago, Turkey, Ukraine, United Arab Emirates, United Kingdom Of Great Britain and Northern Ireland, United States of America, Uruguay.
B) For up to 60 days:
C) For up to 30 days: Grenada; Hong Kong (With British Passport B.N.O.); Jamaica; Republic of Kazakhstan and Malaysia.
If your country is not listed here, you require a VISA to enter ARGENTINA. Please consult the following link for more information: http://www.cancilleria.gob.ar/en/visas
Accommodations
The 2018 HDCA Conference will be held at the campus of the Universidad Católica Argentina (UCA), located at Alicia Moreau de Justo 1300, Puerto Madero, Ciudad Autónoma de Buenos Aires, Argentina.
The conference organizers have obtained discounted rates at each of the following hotels through the travel agency TTS VIAJES. We suggest that you stay at one of the suggested hotels close to the UCA because transportation in the area has been reduced due to a large road construction project.  Also note that, since the hotels are located in walking distance from the university, daily transport will not be provided between the hotels and the conference venue.
To obtain these special rates, please contact by phone or email, indicating the Reference Code: 2018 HDCA Conference:
 Angelica Basavilbaso
+54 11 6333-3333 ext 3720
abasavilbaso@ttsviajes.com | www.ttsviajes.com
Hotels offering discounted rates to 2018 HDCA Conference participants, through TTS Viajes:
HOTEL HILTON U$S 234.- + tax
http://www3.hilton.com/en/hotels/argentina/hilton-buenos-aires-BUEHIHH/index.html
Address: Macacha Güemes 351 – CABA
Telephone: +54 11 4891-0000 
Hotel MADERO U$S 170.- + tax
http://www.hotelmadero.com/en
Address: Dique 2, Rosario Vera Peñaloza 360 – CABA
Telephone: +54 11 5776-7777
ANSELMO BUE CURIO COLLECION BY HILTON : U$S 133.- + tax
http://curiocollection3.hilton.com/en/hotels/argentina/anselmo-buenos-aires-curio-collection-by-hilton-BUEBAQQ/index.html
Address: Don Anselmo Aieta 1069 – CABA
Telephone: +54 11 4834-3200
CH MADERO SUITES U$S 90.- + tax
https://www.hotelescyan.com/chmaderourbanosuites/
Address: Azopardo 770 – CABA
Telephone: +54 11 3220-3900
UNIQUE ART MADERO U$S 60.- + tax
https://www.hotels-unique.com/en/hotels/uniqueartmadero/
Address: Chile 80 – CABA
Telephone: + 54 11 4788-1675
*The prices are per night, single room. There are no restrictions on the number of nights.
Venue and attractions
VENUE
UCA University
San Agustín auditorium and San José building
Address: Av. Alicia Moreau de Justo 1300  – Buenos Aires – Argentina
http://www.uca.edu.ar/index.php/home/index/en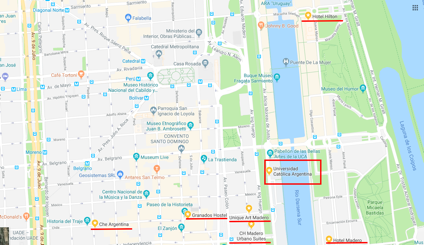 Banks and Currency exchange
The peso is the Argentine official currency. There are 5, 10, 20, 50, 100, 500 and 1000 peso notes and 1 and 2-peso coins, as well as 10, 25 and 50-cent
You must show your passport to change money at banks and official exchange bureaus.
Banking hours are Monday through Friday from 10 a.m. to 3 p.m. Very few exchange bureaus open over the weekends. These are mainly located in the Recoleta district and along Florida Street and, in general, have similar timetables to banks (i.e. 10 a.m. to 3 p.m.).
We do not recommend changing money in the streets or in cabs since people report having received counterfeit money.
Banks/ATMs at airports
There is a Banco Nación branch office at Terminal A, Ministro Pistarini "Ezeiza" International Airport (round the clock).
There are also Automatic Teller Machines (ATMs) from which you can draw local currency.
Transportation
Travel Information
Entry requirements
Passport: valid passport, with or without a visa, according to each case. Participants are responsible for carrying out the process of securing their own visas, and for doing so in a timely fashion.
Participants from non-neighbouring countries are exempted from paying taxes on new articles worth up to USD 300, and are allowed an additional USD 300 for products purchased at the Duty Free Shops authorized to operate across Argentina.
Arrival in Buenos Aires
The city has two international airports:
EZE-Ministro Pistarini "Ezeiza" International Airport: most of the airline companies flying into Argentina land here, a 37km drive from the city, along Teniente General Ricchieri highway.
AEP-Jorge Newbery Airport: flights from MERCOSUR neighbouring countries usually land at this airport, which is nearby downtown Buenos Aires.
Should you have any questions on flights leaving from/arriving at the airport, please call: (54 11) 5480 6111 or check the website: www.aa2000.com.ar
Transport to and from the airports
Ministro Pistarini "Ezeiza" International Airport
Fixed-rate mini-cabs
1- Manuel Tienda León: You can request the service 24 hours in advance by e-mail, or upon arrival at airport. Points of Sale: Terminals A, B and C / Arrivals Hall.
Phone: (5411) 4314 3636 / 4315 5115 and 0810 888 LEON (5366)
e-mail: informes@tiendaleon.com.ar2-Vip Cars: Points of sale: Terminal A / Arrivals Hall.
Phone: (54 11) 5480 4594.Payment method: cash, or using a credit card and/or foreign currency (euro/ US dollar) at the official exchange rate
HDCA Summer School
Monday 27- Tuesday 28 August 2018
Universidad Católica Argentina (UCA), Buenos Aires
Registration now open – click here to register!
Summer School Programme
We are pleased to announce that this year's HDCA Summer School will take place on Monday 27 August and Tuesday 28 August 2018 ahead of the annual conference in Buenos Aires, Argentina.  The summer school aims to develop participants' knowledge and understanding of key concepts in human development with a particular focus on the capability approach.  The summer school will be led by the HDCA Summer School Team including, Caroline Sarojini Hart, Sridhar Venkatapuram and Graciela Tonon, together with further special guest tutors. The two-day programme will include sessions on the nature of human development; foundational concepts in human development and the capability approach; inequalities and capabilities; education; health and communities.  There will also be workshop style sessions on developing research methods with opportunities for participants to present and discuss their own research projects and ideas. Accepted participants will be given pre-course preparation to do ahead of the summer school. All sessions will be in English.
Summer School Eligibility
The programme is open to masters and doctoral students working with the capability approach in their research.  To be eligible you must also be attending the main HDCA conference in Buenos Aires (separate registration required). If you have any queries about your suitability for the summer school please email the Education Officer, Caroline Hart at c.hart@sheffield.ac.uk for clarification.
Venue
The summer school will take place at Universidad Católica Argentina (UCA), Buenos Aires, Argentina. The programme will start at 9.30am on Monday 27 August and finish with the Summer School Dinner on Tuesday 28 August around 9pm.
Transport
For information about how to reach the University campus and for transport from the airports please see HDCA 2018 conference webpages at www.hd-ca.org.
Accommodation
For suggestions about accommodation please see the HDCA 2018 conference website.  If you are interested in sharing accommodation with other summer school participants please indicate this on your registration.
Registration
The cost of the summer school will be US$70 and places will be allocated on a first come first served basis on receipt of payment and registration.To register for the 2018 HDCA Summer School you will need to complete the online registration process, including payment.  Please click here to register.
The registration fee includes participation in the two-day programme, refreshments, two lunches and one evening meal as well as course materials.  It does not include travel or accommodation costs so participants will need to budget accordingly.  There is a wide range of accommodation available locally and good transport systems at reasonable cost.  You may need to travel a considerable distance to secure low cost accommodation and should take this into account when making travel arrangements.
If you are awarded a scholarship for this year's main HDCA conference you will be eligible for up to US$100 towards your accommodation costs for attending the summer school (payable following summer school registration).
Please note summer school places are limited and usually book up very quickly.  Priority will be given to students who have not previously attended an HDCA summer school. 
Summer School Team
Caroline Sarojini Hart, HDCA Education Officer
Sridhar Venkatapuram, HDCA Officer at Large
Graciela Tonon, HDCA Secretary