2018 HDCA Conference – Buenos Aires, Argentina
HDCA 2018 Conference
Ver la página web de la Conferencia en Español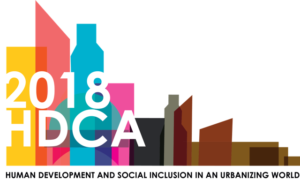 "Human Development and Social Inclusion
in an Urbanizing World" 
August 30-September 1, 2018
Buenos Aires, Argentina
The 2018 HDCA Program Committee cordially invites scholars, government policy makers, practitioners and other interested parties from all over the world to participate in the 2018 HDCA conference.  Original empirical research, theoretical issues, case-studies or reports of experiences, or findings from major research projects, and book panels relevant to conference theme or more broadly related to human development/capabilities approach will be presented.
Please use the conference menu on the right to find more information. The conference organizers can be contacted at hdca2018@uca.edu.ar.
Privacy Policy
HDCA respects your privacy and will not sell or share information collected.  Our payments are processed through First Data which is a secure payment processor for businesses.
Refund Policy
Conference registration and payment will open up to 5 months in advance of the conference and registration will not be complete until payment has been received. Once payment has been processed, you will receive an email with confirmation.  Registration will close once all available spots have been filled. All registrations are final. No refunds will be issued,  unless there are extenuating circumstances (e.g. serious illness or death of close relative). Requests for refunds must be received prior to the start of the conference. There are no refunds for payments of membership dues.
Conference Theme
"Human Development and Social Inclusion in an Urbanizing World"
Today more than half of the world's population lives in urban areas and the share is expected to reach 66 per cent by 2050. While the intense social, cultural and economic interaction implied by the agglomeration of people in cities offers diverse benefits for human and economic development it also poses numerous challenges. Social fragmentation, spatial segregation and the widespread growth of informal settlements, or slums, reflect the persistence of social and economic inequality in the context of the expansion of cities. The rapid demographic shifts and resulting urban sprawl, coupled with the environmental stresses caused by cities, hinder the adequate provision of public services and effective urban governance. The recent flow of immigrants from poor and unstable countries to the cities of developed nations present new obstacles to economic, social and cultural participation in the Global North. All of these trends challenge governments and society as a whole to find new ways to foster human development and social inclusion for all.
Latin America, as the most unequal and urbanized region of the world, with the largest concentration of megacities, is a particularly relevant place to host the conference. Issues such as residential segregation, urban inequality, social marginalization and exclusion, violence, addictions, environmental degradation, among others, have acquired particular relevance in the region and their origins are rooted not only in the urbanization process but also complex historical, political and cultural factors. The continent also has produced relevant innovations in the design of social safety nets (for example, conditional cash transfers) and policies to foster urban integration.
The 2018 Conference theme proposes to analyse these urban issues through the lens of the capability approach and human development framework and in light of global experiences. It will examine how the approach can provide innovative tools and criteria to assess quality of life and how its conditions are distributed in the context of cities. The conference will also examine how the capability approach can contribute to critically thinking on how to design adequate policies to achieve the Sustainable Development Goals, especially goal 11: Make cities inclusive, safe, resilient and sustainable. It can also frame the discussion on how to address the Urban Agenda set out by UN-Habitat III: 1) ending poverty in all its forms and dimensions by ensuring equal rights and opportunities, socio-economic and cultural diversity, integration in the urban space; 2) achieving sustainable and inclusive urban economies by promoting full and productive employment and decent work for all and 3) promoting environmental sustainability, by promoting clean energy, sustainable use of land and resources in urban development.
Call for Papers & Deadlines
Please submit your proposed poster, paper, or panel, via the submission site: (http://www.conftool.pro/hdca2018/ using the appropriate form.
If you encounter problems with the online submissions system, please email the conference organizers at:  hdca2018@uca.edu.ar.
In order to ensure academic quality, all submissions will be reviewed by two reviewers, at least one of whom is an HDCA Fellow or a senior researcher in the field.
Important Deadlines
February 28, 2018 – Extended Deadline for Submission of proposals
April 15, 2018 – Announcement of acceptance/rejection
June 15, 2018 – Deadline for conference registration at early-bird rates
July 15, 2018 – Submission of full papers/posters
August 15, 2018 – Final deadline for conference registration at standard rates
Keynote Speakers
Ravi Kanbur (Cornell University)
Santiago Levy (vice-president of the Interamerican Development Bank)
Ul Haq Memorial Lecture
Alejandro Portes (Princeton University)
Amartya Sen Lecture
Avner De-Shalit (Hebrew University)
Ingrid Robeyns (Utrecht University)
Amartya Sen (Harvard University, tbc)
Plenary panel on Power, Inequality and Justice: A Latin American perspective (panelists: Fernando Calderon, Sonia Fleury, Javier Iguiñiz, José Nun)
Plenary panel on Urbanization/slum upgrading experiences
Registration, fees & scholarships, visa information
Online conference registration will open around April 2018. Students and scholars from low- and mid-income countries will pay a significantly reduced registration fee, as the following schedule indicates:
Professional, high-income country, early ($380)
Professional, high-income country, standard ($430)
Professional, low- or mid-income country, early ($190)
Professional, low- or mid-income country, standard ($240)
Student, high-income country, early ($190)
Student, high-income country, standard ($240)
Student, low- or mid-income country, early ($90)
Student, low- or mid-income country, standard ($130)
Please note that the registration fee provides a year's membership in the HDCA, which includes a year's subscription to the Journal of Human Development & Capabilities.
Please use the attached World Bank classifications to identify low, middle and high-income countries.COUNTRY CLASSIFICATION FOR REGISTRATION
Scholarships for young researchers (35 and under).
The HDCA has limited funds to provide some support for young scholars (35 or under) to attend this year's conference. Scholarships have an upper limit of $1,000 and average $500. If you are interested in receiving a scholarship please indicate this when you submit your abstract for review (deadline 15th February). As there are many scholars who are interested in receiving funds we request that people only apply if obtaining a scholarship will make the difference between attending or not.
The general criteria are: Merit (average review scores) and financial need.
VISA INFORMATION
People from the following countries DO NOT require a VISA to enter ARGENTINA as tourists:
A) For up to 90 days:
Andorra, Armenia, Australia, Austria, Barbados, Belarus, Belgium, Bolivia, Brazil, Bulgaria, Canada, Colombia, Costa Rica, Croatia, Czech Republic, Chile, Cyprus, Denmark, Ecuador, El Salvador, Estonia, Estado Ciudad del Vaticano, Finland, France, Georgia, Germany, Greece, Guatemala, Guyana, Haiti, Honduras, Hong Kong (With Passport R.A.E.H.K.), Hungary, Ireland, Iceland, Israel, Italy, Japan, Korea Republic, Latvia, Liechtenstein, Lithuania, Luxembourg, Macedonia, Malta, Mexico, Monaco, Montenegro, Nicaragua, Norway, New Zealand, Netherlands, Panama, Paraguay, Peru, Poland, Portugal, Romania, Russian Federation, Saint Kitts and Nevis, San Marino, Santa Lucia, Saint Vincent and The Grenadines, Serbia, Singapore, Slovak Republic, Slovenia, South Africa, Spain, Sweden, Suriname; Switzerland, Thailand, Trinidad and Tobago, Turkey, Ukraine, United Arab Emirates, United Kingdom Of Great Britain and Northern Ireland, United States of America, Uruguay.
B) For up to 60 days:
C) For up to 30 days: Grenada; Hong Kong (With British Passport B.N.O.); Jamaica; Republic of Kazakhstan and Malaysia.
If your country is not listed here, you require a VISA to enter ARGENTINA. Please consult the following link for more information: http://www.cancilleria.gob.ar/en/visas
Venue and attractions
VENUE
UCA University
San Agustín auditorium and San José building
Address: Av. Alicia Moreau de Justo 1300  – Buenos Aires – Argentina
http://www.uca.edu.ar/index.php/home/index/en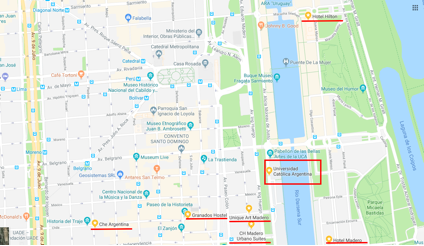 Banks and Currency exchange
The peso is the Argentine official currency. There are 5, 10, 20, 50, 100, 500 and 1000 peso notes and 1 and 2-peso coins, as well as 10, 25 and 50-cent
You must show your passport to change money at banks and official exchange bureaus.
Banking hours are Monday through Friday from 10 a.m. to 3 p.m. Very few exchange bureaus open over the weekends. These are mainly located in the Recoleta district and along Florida Street and, in general, have similar timetables to banks (i.e. 10 a.m. to 3 p.m.).
We do not recommend changing money in the streets or in cabs since people report having received counterfeit money.
Banks/ATMs at airports
There is a Banco Nación branch office at Terminal A, Ministro Pistarini "Ezeiza" International Airport (round the clock).
There are also Automatic Teller Machines (ATMs) from which you can draw local currency.
Transportation
Travel Information
Entry requirements
Passport: valid passport, with or without a visa, according to each case. Participants are responsible for carrying out the process of securing their own visas, and for doing so in a timely fashion.
Participants from non-neighbouring countries are exempted from paying taxes on new articles worth up to USD 300, and are allowed an additional USD 300 for products purchased at the Duty Free Shops authorized to operate across Argentina.
Arrival in Buenos Aires
The city has two international airports:
EZE-Ministro Pistarini "Ezeiza" International Airport: most of the airline companies flying into Argentina land here, a 37km drive from the city, along Teniente General Ricchieri highway.
AEP-Jorge Newbery Airport: flights from MERCOSUR neighbouring countries usually land at this airport, which is nearby downtown Buenos Aires.
Should you have any questions on flights leaving from/arriving at the airport, please call: (54 11) 5480 6111 or check the website: www.aa2000.com.ar
Transport to and from the airports
Ministro Pistarini "Ezeiza" International Airport
Fixed-rate mini-cabs
1- Manuel Tienda León: You can request the service 24 hours in advance by e-mail, or upon arrival at airport. Points of Sale: Terminals A, B and C / Arrivals Hall.
Phone: (5411) 4314 3636 / 4315 5115 and 0810 888 LEON (5366)
e-mail: informes@tiendaleon.com.ar2-Vip Cars: Points of sale: Terminal A / Arrivals Hall.
Phone: (54 11) 5480 4594.Payment method: cash, or using a credit card and/or foreign currency (euro/ US dollar) at the official exchange rate