2020 HDCA Conference – Online (Auckland, NZ)
Conference Home
A very special thank you to everyone who participated in, or otherwise supported the realisation of, our 2020 HDCA Conference. Due to COVID-19 and the corresponding global need for strict social distancing, we had to shift gear and turn the conference into an all-online event. We were thrilled that it was so appealing to such a large number of presenters and audience participants, and that it went so splendidly. It was an incredible pleasure to e-meet so many fantastic people ツ
Hopefully, many of us will have a chance to meet non-virtually again in the near future. We hear that Antwerp is a beautiful place, among other locations.
As always, our warmest wishes from Auckland,
Your 2020 HDCA Conference Organisers
– – –
REGISTRATION IS NOW CLOSED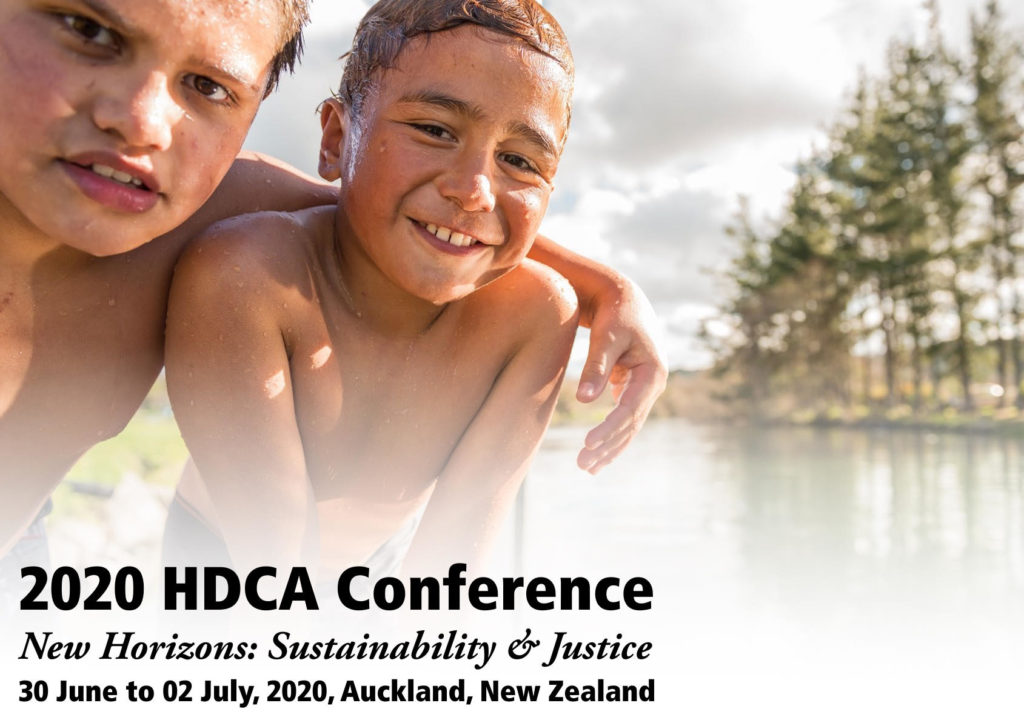 To ensure you receive news and updates, please subscribe to the email list for our 2020 event. Send a message from your email account to sympa@lists.massey.ac.nz. Make sure the subject of your email is "SUBSCRIBE 2020HDCA" (without the quotation marks), otherwise the list server will respond with an error message. Here's a screenshot that shows what your message should look like: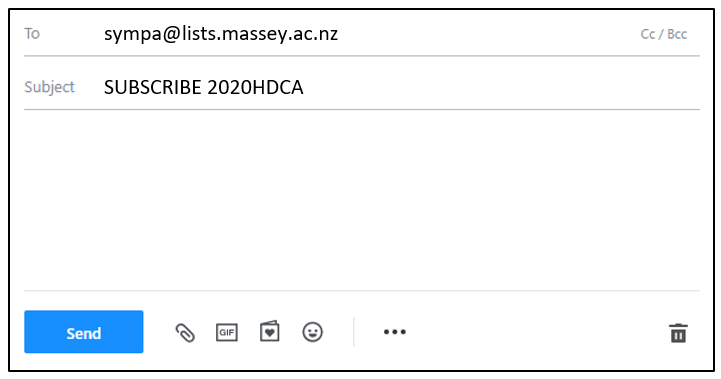 Alternatively, you can simply message the conference organisers at 2020HDCA@massey.ac.nz and they will add your address to the email list for you. The organisers are also happy to answer any conference-related questions at that address.
Tangata Whenua
Māori are tangata whenua or people of the land. The relationship that tangata whenua have with the natural environment (mountains, rivers, flora and fauna) has been shaped by experiences from and responsibilities to past, present, and future generations. This deep relationship and responsibility to the natural environment is exemplified in the way that Māori, when introducing themselves, do so by situating themselves within a particular landscape (in relation to a mountain, river, ocean, region, marae, people). It is also evident in the way that 'whenua' means not merely land but also placenta – highlighting the fundamental connection that people have to the natural environment.
Information About Local Maori Communities in Tamaki Makaurau Auckland
Te Tino O Kaipara – The Great Kaipara
and
Information About Marae
Marae is centrally about people and the environment working together – or, in other words, about tangata whenua, people of the land. […] Marae (kin-community centres) remain the quintessential focus of tribal Māori identity. […] Prior to East Polynesians arriving in Aotearoa, marae had continuously evolved and developed in response to more than 2000 years of oceanic exploration and settlement. […]
However, many marae communities struggled under the pressures enforced upon them due to land wars and resulting laws that vastly diminished tribal land estates. And if those pressures were not significant enough, the economic recession of the 1930s – as well as other factors – has had cumulative, irreversible effects on marae. Since World War II, further major changes have occurred within marae communities. Perhaps the most significant is that Māori as individuals are no longer culturally, politically or economically dependent on their marae community or papakāinga to survive. This creates a dilemma: hapū and their marae cannot survive without kin support. The marae and their leaders are the primary means for transmitting cultural values and the language that symbolises tribal identity. […] The net effect of limited youth engagement, participation or even simply presence with elders in marae contexts is to reduce the sustainability of community cultural knowledge and values. […]
The major question facing many communities is, can tribal marae survive this silent crisis of human resource depletion? Can marae transform themselves again, as in the past, to remain relevant and vital to the new generation of Māori living in mostly distant urban environments? And how can those descendants living away (virtually) reconnect and support their local marae communities who keep the home fires alight? The outcomes of the decisions made today, especially about Treaty settlements, language and marae programmes, will have a ripple effect on the living of tomorrow.
(From: Tapsell, Paul [2014]. Tribal marae: Crisis? What Crisis? In Merata Kawharu [ed.] Maranga Mai: Te Reo and Marae in Crisis? Auckland University Press)
For all tribal marae throughout the country, see HERE.
Te Tiriti o Waitangi
When modern Aotearoa New Zealand was founded in 1840, a partnership between two cultures and two systems of law and morality was forged. Te Tiriti o Waitangi (Te Tiriti), The Treaty of Waitangi, recognises this to be the case. It affirms and promises to uphold the mana (customary authority), tino rangatiratanga (leadership), and tikanga (law) of Māori, and commits to a relationship of equal partnership between Māori chiefs and the British Crown.
For further information about Te Tiriti, see:
IMPORTANT DATES
Please note that some dates have recently been adjusted (compared to the original call for papers).
March 21, 2020: Announcement of acceptance/rejection
April 18, 2020: Deadline for scholarship applications
May 2, 2020: Announcement of scholarship recipients
May 16, 2020: Deadline for conference registration at early-bird rates
June 6, 2020: Final deadline for conference registration at standard rates
June 15, 2020: Submission of posters/videos
Online Conference Formats and Technical Requirements
Following the outbreak of Coronavirus disease 2019 (COVID-19), we had to change the set-up of the 2020 conference to a pure online format. In effect, presenters now have two different options to display their work:
| | |
| --- | --- |
| 1 | Live video-conferencing sessions in which speakers and audience engage with each other in real time. |
| 2 | Pre-recorded sessions in which presenters post their material in advance and the audience engage with it at a time of their choosing. |
In addition, our keynote speakers will address the audience live during various specific timeslots throughout the conference.
Presenter Requirements
The technical solution we will employ for option 1 is Zoom Meetings. The use of Zoom itself does not involve any cost for conference presenters. However, to ensure that all participants are satisfied with their experience of the papers (in terms of both delivery and reception), presenters will be allowed to participate in option 1 sessions only if they have access to appropriate technology of the following kinds:
| | |
| --- | --- |
| – | A reliable Internet connection, ideally wired broadband (because wireless network connections tend to be much more fallible); the speed must be 3.0 Mbps (both up and down) minimum — you can test the upload and download speed of your connection HERE |
| – | A personal computer with a recent processor (dual-core 2Ghz or higher — i3/i5/i7 or AMD equivalent) and with sufficient RAM (4GB minimum) |
| – | Quality speakers and a microphone (built into the computer or connected by USB) |
| – | An HD webcam (built into the computer or connected by USB) |
| – | Zoom Meeting software (download HERE and install) |
(We will conduct a test run with each remote presenter prior to the event.)
The technical solution that we employ for option 2 is an online platform for posting materials and hosting forum discussions. It too does not involve any cost for conference guests, and the technical requirements for participation in this category are lower. Presenters who wish to display their material in the form of an online poster merely need to be able to produce their exhibit in PDF or high-resolution picture format. Presenters may post additional video or audio clips to accompany their display (10-minute maximum length). The latter require corresponding technology to produce such media (the organisers will not be able to produce these for them). We will arrange for the installation of all option 2 files on our online platform.
Audience Requirements
Technical requirements for our audience is significantly lower compared to those for presenters. To view and comment on option 2 materials, access to a computer with a standard up-to-date browser and a standard Internet connection suffice.
To view option 1 sessions and keynotes live (as they are produced), we recommend that guests have access to appropriate technology of the following kinds:
| | |
| --- | --- |
| – | A reliable Internet connection with enough speed and capacity for streaming of video and audio |
| – | A contemporary personal or tablet computer with sufficient RAM (4GB minimum) |
| – | Headphones or speakers of reasonable quality |
| – | Zoom Meeting software (download HERE and install) |
In addition, those who wish to orally participate in Q&A sessions need a microphone of sufficient quality. Anyone who wishes to provide their own video stream (such that can be seen by everyone else) requires a webcam of sufficient quality (as well as an Internet connection of slightly greater speed and capacity).
Note:
| | |
| --- | --- |
| – | For details about how to install the Zoom software on your personal or tablet computer, how to set it up, and how to get started, please check THIS LINK. |
Online Conference FAQs
1. FOR GENERAL INTEREST
1.1 What are the time slots of live presentations in Zoom?
On each day of the conference (30 June to 2 July), we have three consecutive 1.5-hour slots in the morning between 8:00-12:30 and three consecutive 1.5-hour slots in the evening between 20:00-00:30 (New Zealand time). To convert these slots to your own local time, we suggest you use THIS TOOL.
1.2 If my paper has co-presenters, do we all have to register and pay the event fee?
Yes. The approach we take is the same one you would find in a traditional conference. Anyone who 'comes to the conference' (ie, dials into Zoom sessions and/or enters our online platform for prerecorded sessions) has to register and pay the corresponding event fee.
1.3 I've never used the Zoom app, can you teach me how to use it?
For basic information on how to install and use Zoom in Windows or Mac OS, please check out THIS RESOURCE. In addition, you can find Zoom video tutorials on a variety of issues HERE.
1.4 How do the two options — live presentation and prerecorded session — differ?
Please check out the Online Conference Formats and Technical Requirements section of this website.
1.5 How can I apply for a scholarship towards the conference fees?
Please check out the Scholarships and Prizes section of this website. That's also where you find eligibility information.
1.6 If I have specific questions about registration payment or fees, whom can I contact?
Please message Kathy Rosenblum at admin@hd-ca.org.
1.7 What's the deadline for participants to let the organisers know which session format they choose?
You need to contact us by 16 May at the latest.
1.8 Will there be any prizes for presenters during this conference?
For our newly instated online-conference awards, please check out the Scholarships and Prizes section of this website.
2. FOR PARTICIPANTS WHO PRESENT LIVE
2.1 I've never presented online in Zoom, can you teach me?
We will make resources on how to use Zoom during your live presentation available here soon, please check back in a few days. In the meantime, consider learning about general Zoom use by checking out item 1.3 above.
2.2 When will I be notified of the date and time of my session?
We are aiming to send out a draft schedule for live presentations at around 20 May (one week after early bird registration has closed).
2.3 How long are Thematic Panel Sessions?
Each session is 1.5 hours long. Panel organisers will be in touch with panellists to discuss in detail how best to use this time.
2.4 How much time will I have to present my individual paper?
Each session is 1.5 hours long and incorporates a maximum of three individual papers. Thus, you each have 25 minutes (including Q&A), regardless of whether you are an academic, practitioner, or young scholar. Chairs will be in touch to discuss in detail how you would like to use your time.
3. FOR PARTICIPANTS WITH PRERECORDED SESSIONS
3.1 How will I get feedback for my prerecorded contribution?
We will be encouraging members of the conference audience to visit our online platform where each prerecorded contribution is posted and engage with the author in the respective forum.
3.2 How long can my prerecorded session be?
If you wish to make your contribution a prerecorded audio or video session, we recommend you limit yourself to 15 minutes length. Otherwise, you will not be eligible for a viewers' choice award.
3.3 What's the deadline for participants to send the organisers their prerecorded materials?
You need to submit all of your files by 15 June at the very latest. We will make an inbox for uploads available in due course.
Conference Theme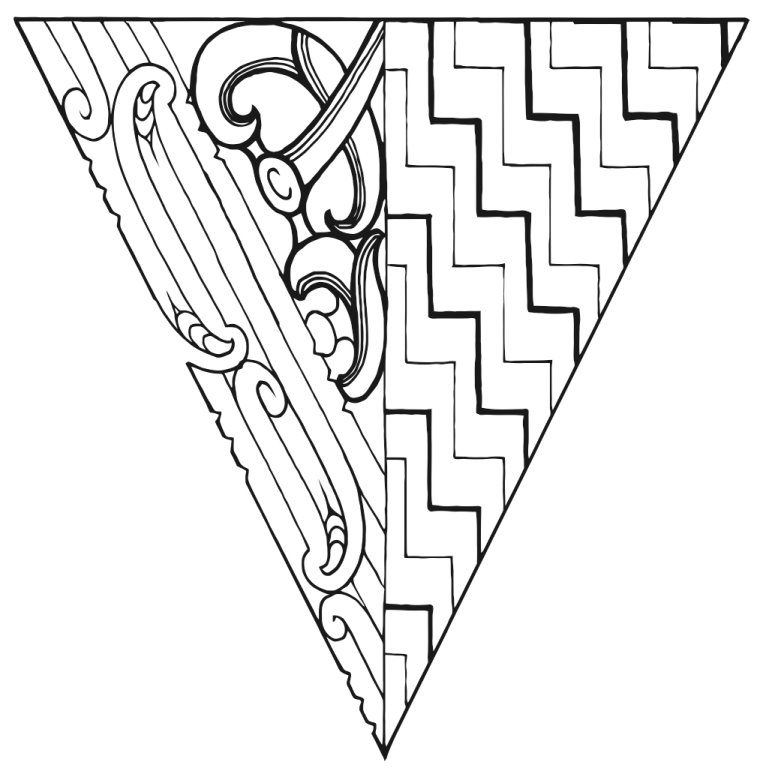 | | |
| --- | --- |
| | Our tohu, inspired by concepts in Māori philosophy, represents our connections to both physical and spiritual worlds. The poutama (stair pattern on the right) represents the human connection to atua and a philosophy of climbing to the heavens to attain knowledge and enlightenment. The puhoro (wave pattern on the left) represents our connection to our natural environment (including water) and its importance to life and nourishment. The manaia (centre left) represents the human element and the way in which our experiences and values are shaped by what the other two elements represent. |
| | Artist: Graham Tipene (Ngāti Whātua, Ngāti Kahu, Ngāti Hine, Ngāti Haua) |
While ideas about well-being, human development, and justice have always been progressed, now more than ever is the time for us to push ahead. Problems like radical climate change and the many effects it has on the ability of communities to flourish worldwide leave us with little other choice.
The Capability Approach and Human Development Paradigm have been playing an important role in this progress. They provide a meeting point for diverse perspectives, in- and outside of academia; link the Global South and Global North; and place the lives that people are able to have at the heart of well-being, development, and justice. Sustainability and equity are two of the pillars of human development, and while much progress has been made in understanding these ideas, new challenges have emerged. The urgent need to face these new challenges requires even more inter-disciplinary and cross-cultural understanding and exchange. How do we meet the needs of the present generation without sacrificing those of future generations? Can capability concepts help to distinguish sustainable flourishing from damagingly excessive living standards? How might we reinvent our means of satisfying human needs, so that our planet's population can still function well while reducing consumption? In the age of rising sea levels, what are the bases of community if territory and historical connections to places are no longer available? And in the face of worsening ideological conflicts, how might economic, social, and political frameworks be rethought?
Indigenous philosophies are highly relevant to sustainable and equitable development. They have been playing an increasingly prominent role in advancing social, economic, environmental, and cultural development around the world. In Aotearoa New Zealand, Māori philosophies ground the naming of Te Awa Tupua (the Whanganui river) and Te Urewera (previously a national park) as legal entities with rights. Similarly, Kaupapa Māori Theory has helped to pioneer a platform for indigenous knowledges globally, providing space to reimagine the role of communities in research and development. Beyond Aotearoa New Zealand, concepts such as aloha 'āina (Hawai'i, 'love of the land'), minobimaatisiiwin (Anishinaabe, 'the good life'), and sumaq kawsay (Quechua, 'good living') are transforming environmental thinking. Within and beyond the Pacific region, calls for sustainability chart a renewed course for development, highlighting the urgency and centrality of environmental concerns for tackling poverty, the value of diverse knowledges, and the need for local and global solutions. We can use this momentum to prevent that governments worldwide continue to ignore indigenous people's knowledge and values and refuse to give them effect in policy and law.
Cross-disciplinary dialogue and conversation among people with very diverse experiences provide us with exciting opportunities for discovering creative solutions to old and new problems and harnessing the potential of creative and often unexpected synergies. In this regard we ask: What new conversations involving the Human Development Paradigm and Capability Approach are currently underway? In which discussions should the approach participate in the future? What can we learn from perspectives that remain at the margins of current mainstream conversations? How, within the human development and capability space, can different values speak to each other? And how can we prevent that the silencing of differences and the monopolisation of discourses squashes innovation?
Under the theme New Horizons: Sustainability and Justice, the 2020 HDCA Conference aims to provide an enriching way to focus on fresh ideas, new directions, and different voices that take us into the future.
Keynote Speakers
The following keynote speakers have been confirmed for our conference in its new all-online format (updates here soon):
​
Sakiko Fukuda-Parr

Professor of International Affairs and Director of Julien J. Studley Graduate Programs in International Affairs, The New School

Pedro Conceição

Director of the Human Development Report Office and lead author of the Human Development Report, United Nations Development Programme

Kate Raworth

Senior Research Associate at Environmental Change Institute, Oxford University / Professor of Practice, Amsterdam University of Applied Sciences

Arunabha Ghosh

Chief Executive Officer, Council on Energy, Environment and Water (CEEW)

Linda Smith

Professor of Indigenous Education, University of Waikato

José Gabriel Palma

Faculty of Economics, University of Cambridge (Emeritus) / University of Santiago

Sridhar Venkatapuram

Senior Lecturer in Global Health and Philosophy, King's College London

Jay Drydyk

Professor of Philosophy and Program Director of Ethics and Public Affairs, Carleton University

 
Mahbub-ul-Haq Memorial Lecture, by Sakiko Fukuda-Parr
Rescuing Human Development from the HDI: A Human Development Agenda for the 21st Century
What would Mahbub be advocating today as the priority human development agenda? What are the most urgent challenges of the day and what can the human development perspective contribute?
Inspired by this question and Mahbub's propensity to change his mind readily in response to new ideas or new realities, this lecture argues that human development is as relevant as it was in 1990 to bring new perspectives on the crises of contemporary society such as pandemics, climate change and inequality. But to do so requires rescuing the concept from the HDI – a highly imperfect, simplified representation of the complex and broad concept. The imperfections were recognized even at the origins but the index was developed as an important tool of communicating the new paradigm, capable of drawing attention to human ends of development and reframing development thinking. But as numeric indicators often do, the HDI began to redefine, not just represent, human development. This lecture will consider the origins of the concept of human development and its relationship to capability theory, and the evolution of the literature on human development. It will argue that the misalignment between HDI and human development has widened in terms of a discourse of development capable of presenting an alternative paradigm and shifting frameworks, and as an analytical framework for setting policy agendas.
Amartya Sen Lecture, by José Gabriel Palma
What Went Wrong With European Social Democracy: On Building a Debilitating Capitalism, Where Even the Welfare State Subsidises Greater Market Inequality
This presentation will elaborate on a proposition advanced in a previous paper: that the only sustainable progressive and enabling social and distributive agendas are those anchored in an economic agenda that already leads to low levels of inequality in the market. In other words, from the perspective of sustainability and economic efficiency, and also from that of functionings and capabilities, it matters whether low levels of inequalities have been achieved already in the market, or if they are achieved only subsequently via taxes and transferences. Yet European countries have let their markets reach Latin American levels of inequality (and have done so happily), while simultaneously attempting to sustain their traditionally low levels of disposable income inequality via taxes and transfers. As a result, the average share of 'social protection' in overall public expenditure among European Union countries stands at 40 per cent — and including health and education, this share jumps to two thirds. Meanwhile, they have given a generous new tax status to those who have benefited most from this increased market inequality; and as there are limits to how much they can tax everybody else, governments' debts are mounting. The idea that inequality should be dealt with 'at source' (i.e., in the market) has become totally alien to the new social democratic ideology, which is stuck in the past twice over: in their social agenda, they just want to replicate the past, while in terms of their economic agenda, they seek to construct a future which is almost the exact opposite of that past. Such an inability to deal creatively with the inevitable "uncomfortable uncertainties" of change has deprived this ideology of most of its social imagination. This has led to a major political dilemma in the advanced as well as in the emerging worlds, because while this impoverished ideology has lost its legitimacy, more progressive discourses have so far been unable to generate sufficient credibility.
HDRO 30th Anniversary
30 years of the Human Development Report
Since its introduction in 1990, the Human Development Report (HDR) has been one of the UN's great success stories. It has redefined the global development debate in many countries while also broadening the conceptual scope of development by directing policymakers to the multidimensional nature of wellbeing.
Human development about expanding the richness of human life, rather than simply the richness of the economy in which human beings live. It is an approach that is focused on people and their opportunities and choices.
One of the more important achievements of the human development approach, as embodied in successive HDRs, has been to ensure a growing acceptance of the fact that monetary measures, such as GDP per capita, are inadequate proxies of development. The first HDR s introduced the Human Development Index (HDI), which provides a measure of human development progress achieved by a given country.
Today, much has changed in the development world in the 30 years since the first report. Fundamental shifts are taking place in how we understand ourselves and our connections to local and global societies in the light of new technologies, socio-political realities and deep environmental changes, including the ongoing COVID-19 crisis. Consequently, the opportunities, aspirations and choices of a person are also evolving rapidly.
In order to adapt to these changing times with a renewed commitment to illuminating the development landscape, UNDP is endeavoring to construct a New Generation of HDRs that, builds on the unparallel legacy of three decades of reports,  and engages in new ways with new ideas and new actors in the development world.
The HDRs in history
Overall, 26 HDRs and one statistical update have been published since 1990, covering a wide range of important themes including financing, human security, gender, human rights, and sustainability (find all reports here or link to individual reports below.)
2003: MDGs: A Compact among Nations to End Human Poverty
Moreover, National Human Development Reports, which apply the human development lens to development thinking at the country level, have complemented the findings and messages of the global HDR with local contexts and insights. With around 800 reports from 150 countries published since 1990, the NHDRs have promoted the concept of human development in national policy dialogues and spurred public interest for action and change.
Links to related videos are below:
Call for Papers
The submission period has ended. The Call for Papers below is for the conference in its original format (on the ground in Auckland). Thus, some of the information is no longer applicable.
Conference Aims and Topics
To explore the role that the Human Development Paradigm and Capability Approach, in interaction with other perspectives, can play in navigating the opportunities and challenges ahead, we invite scholars, activists, policymakers, practitioners, and students working on the areas of human development and capabilities to Auckland, New Zealand. We especially welcome those who are new to the field introducing us to new ideas and perspectives. Recognising the need for diverse participants to engage in innovative conversations and explore the potential for new synergies, we look forward to seeing participants from a wide range of research themes, topics, methods, professions, and regions. Submissions that engage with the role of the humanities in partnership with other disciplines in advancing the core aims of the Human Development Paradigm and Capability Approach are encouraged. We would also like to expressly invite the participation from indigenous peoples, ethnic minorities, and those from the global south.
Contributions to our conference on New Horizons: Sustainability and Justice may explore, among others, the following topics:
| | |
| --- | --- |
| – | Indigenous philosophies |
| – | Sustainability, sustainable development, and SDGs |
| – | Transgenerational capabilities and human development |
| – | Capabilities and the virtues |
| – | Consumption |
| – | Capabilities and the role of emotions |
| – | Migration |
| – | Climate change |
| – | Capabilities: individual vs collective |
| – | Culture and religion |
| – | Capabilities and living standards |
| – | Island nations: challenges and concerns |
| – | Pasifika communities |
| – | Hope in the face of daunting challenges |
| – | Past and future generations |
| – | Transitional justice and reconciliation |
| – | Restorative justice and capabilities |
| – | Capabilities at the margins |
In addition to papers on the conference theme, papers on all core HDCA topics are welcome, including, but not limited to:
| | |
| --- | --- |
| – | Philosophical and ethical foundations and implications of the Capability Approach |
| – | Methodological issues in operationalizing the Capability Approach |
| – | Capability measurement and empirical analysis |
| – | Human rights and development |
| – | Policy analysis and evaluation related to capabilities and agency |
| – | Education: rights, equalities, and capabilities |
| – | Health inequalities, disability, and aging |
| – | Urban and rural capabilities |
| – | The capability approach and arts policy/practice |
| – | Democracy and deliberation |
| – | Equalities and inequalities for children and youth |
| – | Human capabilities and psychology research |
For information about thematic groups, visit https://hd-ca.org/thematic-groups.
Keynote Speakers and Plenary Panels
We're lining up an exciting list of speakers for you. Detailed information on keynote topics and presenters will be provided here on our conference website as it becomes available.
Conference Timeline and Sessions
The main conference takes place from 30 June to 2 July 2020 (Tuesday to Thursday). It will be preceded by a summer school for graduate students (27 and 28 June, weekend) and a day of pre-conference events (29 June, Monday).
In addition to keynote lectures and other plenaries, the conference will accommodate seven types of session:
| | |
| --- | --- |
| 1 | Academic paper sessions, for which single papers can be submitted. Each paper will be presented in a session with 2 or 3 other submissions (25 minutes per paper including Q&A). Please send an abstract of 500-1,000 words, with a list of 3-5 keywords. |
| 2 | Activist/practitioner sessions, for which single presentations can be submitted outlining a practical project or activity. Each session will include 2 or 3 other presentations (25 minutes per presentation including Q&A). Please send an abstract of 500-1,000 words, with a list of 3-5 keywords. |
| 3 | Thematic panel sessions, for which a set of presentations on a single theme related to this year's conference theme or to the subject of one or more of the HDCA's thematic groups is submitted. Panel proposals are welcome from the thematic group coordinators as well as from people unaffiliated with them. Each thematic panel should have a maximum of three papers. It must have a coordinator who submits a panel abstract of up to 1,000 words, plus 3-5 keywords. In addition, an abstract of 500-1,000 words, with a list of 3-5 keywords, should accompany each component paper. The coordinator will act as the contact person for the panel session and the other panel presenters. (NB: the standards for evaluating panels will be the same as for full academic papers. If not all of the papers in the proposed panel session are evaluated favourably, the approved papers will be regarded as individual |
| 4 | Author-meets-critics sessions, in which an author presents a summary of a recent book or larger piece of research. Each author should send a 500-word synopsis of the relevant book or research project, along with 3-5 keywords. The submission should also include the names of one or two confirmed discussants. |
| 5 | Roundtables, which are intended to engage policymakers or governmental stakeholders, or to organise discussions with practitioners about practical approaches to dealing with the problems that are the focus of the conference. Please send a 500-1,000 word abstract, plus 3-5 keywords. Also include information on the roundtable participants, affiliations, and whether the participation of each of them has been confirmed. |
| 6 | Poster presentation sessions, for which dedicated time slots will be available in the programme so that authors can communicate their ideas to the circulating audience. Posters could present a research project, some completed field-work, a case study, or an early-stage research proposal. Please send an abstract of 300-600 words, with a list of 3-5 keywords. |
| 7 | Young-scholar-meets-senior-scholar sessions, intended for graduate students to present their research plan or work in progress (proposals should be 500-1,000 words, with 3-5 keywords). Senior scholars, including HDCA Fellows, will provide feedback and chair the discussion. |
Please note:
–
Since we expect a large number of submissions, 

each person is allowed to be involved in a maximum of two paper proposals

 and these must be for different types of sessions (e.g. full paper and thematic panel).
–
The

same proposal may not be submitted more than once

to different kinds of sessions, for example, full paper, poster, and young scholar.
–
You will be required to identify the broad theme for your proposal to enable us to allocate it to reviewers (for example, education or health).
–
For panel proposals, the panel organisers may not substitute a non-reviewed paper if a presenter withdraws.
The main criteria for evaluating the various kinds of submissions are:
| | |
| --- | --- |
| – | Novelty/originality |
| – | Clarity and structure |
| – | Significance/impact/relevance to/engagement with the capability approach and/or human development |
| – | Methodology/methods or practical application |
| – | Fit with the conference theme |
While the papers may come from any discipline and may be theoretical, applied, or policy-based, every paper must engage with, apply, extend, criticise, or offer insights specifically relevant to the capability approach and/or the human development paradigm.
Stream Proposals
This year, we would like to invite stream proposals made up of two or more panel sessions that are scheduled sequentially. We especially invite streams on a single theme that are: multi-disciplinary, cross-cultural, and/or that bring scholars, practitioners, and members of the wider community into conversation.
If you envision that multiple panel sessions could be arranged in a dedicated thematic stream, please contact the organisers by email (2020HDCA@massey.ac.nz) to discuss your proposal. Please also consider discussing the session with the coordinators from one or more of the thematic groups (see https://hd-ca.org/thematic-groups).
HDCA Summer School
During the weekend that precedes the conference (27 and 28 June 2020), the HDCA will be holding a two-day summer school for graduate students working with the capability approach. Senior HDCA academics will present the basics of the capability approach and discuss cutting edge topics and developments. There will also be opportunities to get group feedback on research projects. Further details will be communicated closer to the event (please check back online here).
HDCA Journal
We encourage papers presented at the conference to be submitted for publication in the Journal of Human Development and Capabilities. This HDCA-owned journal is a peer-reviewed multi-disciplinary journal for people-centred development. For more information on the journal and on how to submit your paper, please see the journal webpage (https://hd-ca.org/publication-and-resources/journal-of-human-development-and-capabilities).
Conference Sustainability
Not only to live up to the theme of the conference, but we will also make special efforts to run the 2020 events as sustainably as possible. For example, conference programmes will be supplied through an app; meals will be plant-based and made from locally sourced ingredients; we strongly encourage all participants to bring their own reusable drinking cups or bottles; we ask attending students in particular to bring reusable containers (e.g., stainless steel or plastic lunch boxes) to take away leftover foods at the end of the day; we very much encourage participants to consider offsetting their CHG emissions (as the HDCA is committed to doing); and we suggest that guests combine their conference visit with an extended stay in beautiful New Zealand, thereby preventing further flight emissions for additional holiday trips. We will also offer options to participate in practical conservation activities that demonstrate first-hand the efforts made in New Zealand to become more sustainable.
If you have ideas about how we can make the 2020 HDCA Conference more sustainable, we encourage you to contact us as soon as possible (2020HDCA@massey.ac.nz). During the conference itself, we will also host a workshop to discuss the future of annual mass-conference events like ours in the age of radical climate change.
Conference Accessibility and Inclusiveness
We aim to make our conference as inclusive and accessible as possible, not only in terms of physical space and materials provided (e.g. programmes, presentations, and nametags) but also with regard to presentation pedagogy and session design (e.g. we encourage presenters to think about how they plan to interact with the audience and to think about what audiences at this particular conference may be able to contribute to conference sessions).
In addition, we are exploring options for accommodating families during the event by providing a dedicated family space and offering options for childcare. You will be able to indicate your interest in these facilities in the online registration form.
For further suggestions how we can make the 2020 gathering more accessible and inclusive, please contact us by email (2020HDCA@massey.ac.nz). Conference-goers with special requirements are especially encouraged to get in touch.
How to Submit Your Proposal
Please submit your proposed poster, paper, or panel online from 1 November 2020 (http://www.conftool.org/2020hdca) using the appropriate form.
If you encounter any problems, please contact the conference organisers by email (2020HDCA@massey.ac.nz.
To ensure academic quality, all submissions will be assessed by two reviewers, at least one of whom is an HDCA Fellow or a senior researcher in the field.
Conference Fees and Registration
REGISTRATION IS NOW CLOSED
Due to the change of format, the conference registration fees have been adjusted as follows:
Early Bird Rates – Through May 16
| | |
| --- | --- |
| – | Presenter, student: $75 |
| – | Presenter, professional, income less than $35,000: $75 |
| – | Presenter, professional, income over $35,000 to $70,000: $125 |
| – | Presenter, professional, income over $70,000 to $105,000: $150 |
| – | Presenter, professional, income over $105,000: $200 |
| | |
| – | Non-presenter, student: $50 |
| – | Non-presenter, professional, income less than $35,000: $50 |
| – | Non-presenter, professional, income over $35,000 to $70,000: $100 |
| – | Non-presenter, professional, income over $70,000 to $105,000: $125 |
| – | Non-presenter, professional, income over $105,000: $175 |
The conference registration fee provides a one-year HDCA membership, including a year's subscription to the Journal of Human Development & Capabilities.
Scholarships and Prizes
Scholarships
The HDCA has a limited number of scholarships to attend the annual conference. They will be awarded based on merit and need to either
| | |
| --- | --- |
| 1 | early-career scholars presenting sole-authored papers at the 2020 HDCA Conference or |
| 2 | scholars residing in low- and mid-income countries presenting papers at the 2020 HDCA Conference (for jointly authored papers to qualify for scholarship funds both authors must reside in a low- or middle-income country) |
To apply for one of these scholarships, please download and complete the scholarship application form after you have received the referees' review of your abstract in mid-February. All scholarship applications must be received by the Chair of the Scholarships Committee by 18 April 2020.
2020 Conference Prizes
Kuklys Prize for Best Paper from a Graduate Student
At the conference, the HDCA will award the annual Wiebke Kuklys Prize for the best paper presented by a graduate student. All graduate students who have not been awarded their degree before 30 June 2020 and are presenting a paper at the 2020 HDCA conference under their sole authorship are eligible to be considered for this prize. If you wish your paper to be considered, indicate so on the online submission form.
To compete for this prize, the full paper must be submitted by 15 May 2020. The winner of the 2020 Wiebke Kuklys Prize will be awarded a cash amount (the purpose of which is to contribute to the student's graduate work, for example, in the form of equipment or book purchases or conference attendance). The name of the winner will be announced at the closing plenary session of the conference, which the author must attend.
Other Prizes
Following the change of format from traditional conference to all-online event, the HDCA offers the following prizes for best contributions:
Best Live Presentation as voted by viewers $300
Runner-up $150
Best Prerecorded Session as voted by viewers $150
Runner-up $75
Organizers & Contacts
Local Organising Committee
Kerry Taylor (School of Humanities, Massey University, New Zealand)
Krushil Watene (Philosophy, Massey University, New Zealand)
Marco Grix (Philosophy, Massey University, New Zealand)
Siautu Alefaio (Psychology, Massey University, New Zealand)
Fiona Te Momo (Te Pūtahi a Toi, Massey University, New Zealand)
Vanessa Schouten (Philosophy, Massey University, New Zealand)
Sharon Bell (Development Studies, Massey University, New Zealand)
Negar Partow (Security Studies, Massey University, New Zealand)
Mandy Yap (CAEPR, Australian National University, Australia)
Hippu Salk Kristle Nathan (Institute of Rural Management, Anand, India)
David Schlosberg (Sydney Environment Institute, University of Sydney, Australia)
Tom Eats (Maritime New Zealand, Wellington, New Zealand)
Programme Committee
Jay Drydyk (Carleton University, Canada [Chair])
Ann Mitchell (Pontifica Universidad Católica, Argentina)
Sakiko Fukuda-Parr (The New School, USA)
Reiko Gotoh (Hitotsubashi University, Japan)
Krushil Watene (Massey University, New Zealand)
Kerry Taylor (Massey University, New Zealand)
Marco Grix (Massey University, New Zealand)
Massey University Albany Māori Advisory Group
Fiona Te Momo (Ngāti Porou [Convenor])
Messina Shaw (Te Aupōuri, Ngāti Te Ata)
Apirana Pewhairangi (Ngāti Porou)
Pita King (Te Rarawa)
Organising Institution
College of Humanities and Social Sciences: School of Humanities
Massey University Auckland
Private Bag 102904
Auckland 0745
New Zealand
Contact the Organisers
Preferred: email 2020HDCA@massey.ac.nz
Optional: call +64 (0)9 414 0800, ext. 43495
HDCA Summer School 2020
Due to the unprecedented circumstances around the coronavirus pandemic, the HDCA has decided that this year's Summer School will not be held.
Instead, the association's Education Officers are working to review and revise the resources available on the HDCA website, and look forward to the face-to-face Summer School at the 2021 conference.
- - - - - - - - - - - - - - -
Confirmed Presenters
Below is the list of currently confirmed presenters, with more names and details being added in our conference platform at Whova.com on an ongoing basis. Any changes made in Whova will automatically appear here right away.
To see a world map showing the locations of our presenters, please click HERE.
Event Schedule
Below is the current schedule of events as they are planned in our conference platform at Whova.com (in New Zealand time). Up until the conference, this schedule remains a work in progress. It may also be updated during the event, if necessary. Any changes made in Whova will automatically appear here right away.