This group hopes to create a space where ideas and experiences can be exchanged when using Participatory Methods to apply the Capability Approach. Members of the group come from different backgrounds but with similar questions: How can the use of participatory methods contribute to a better understanding of people's capabilities? Can we identify functionings and capabilities through participation? What kind of participatory activities can be used to capture the changes in capabilities? Should participatory methods be aimed at expanding people's capabilities? How do participatory methods impact on people's capabilities?
Some of our initial objectives are: to identify and clarify some of the operational challenges of using Participatory Methods in a Capability Approach framework, to illustrate how the real-life experiences of the poor - as depicted through participatory methods - could enrich our understanding of the actual dynamics of human capabilities and functionings, and to understand how participatory methods can contribute to the on going discussion of the relation between capabilities and structural conditions. New members from all backgrounds are welcome, from students to practitioners.
Download the group's bibliography here (updated Feb. 2020)
Events
Organised by HDCA Thematic Group on Participatory Methods Presenter: Kate Sollis (Australian National University)  Bio: Kate is a PhD scholar […]
News
Edited by Enrica Chiappero-Martinetti, University of Pavia, Siddiqur Osmani, Ulster University, Mozaffar Qizilbash, University of York This landmark handbook collects in a single volume the current […]
Videos & Webinars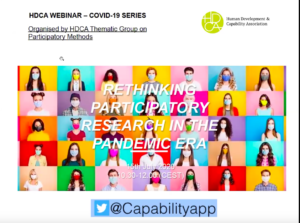 Panelists: Alex A. Frediani, University College London, and Melanie Walker, University of the Free State
In these times of the pandemic, for us as academics, researchers and practitioners who are carrying out our work using participatory approaches, the lockdowns, restrictions on travel, connectivity problems, and the declining availability of stakeholders has serious implications for the quality and the validity of the participatory inquiries and outcomes of our projects.
Through this discussion, we wish to create a collective learning space to come out with options and alternatives that could be adopted to stay true to the principles and processes of participatory research in the pandemic era. What are the frameworks within the capability approach that enable us to understand the present crisis through participatory research? What have been the lived experiences of the researchers in taking forward their participatory work? Is there scope for methodological negotiations and alternatives that could be recommended for participatory researchers to be able to do justice to their research agenda and objectives?
HDCA Webinar
Participatory Methods
HDCA Videos
122 minutes