This thematic group is a network of social scientists, physicians, public health practitioners, and philosophers interested in health and disability issues from a capability perspective. Through the past several conferences on the capability approach and now through our growing network of participants worldwide, group participants have begun to examine a number of issues at the nexus of health, disability and capability including, but not exclusive to, questions of social justice; resource allocation; HIV/AIDS and antiretroviral therapy; reproductive health; impairment, disability and special needs; health system financing and access; capabilities and functionings; responsibility; disability and poverty; aging; disability and income conversion; genetics; gender disparities and health; social determinants of health; and micro-credit participation and health.
For recordings of previous webinars, please go the following link: https://hd-ca.org/video_category/hdca-webinar?post_types=videos
For the latest news and activities from the Health and Disability Thematic Group, please register to join the group by clicking on the registration link on this page (free). For any queries about the group, please contact one of the thematic group coordinators.
Events
By Professor Joanna Coast University of Bristol Wednesday March 10th, 2021 16:00 to 17:00 in London 21:30 to 22:30 in […]
News
Edited by Enrica Chiappero-Martinetti, University of Pavia, Siddiqur Osmani, Ulster University, Mozaffar Qizilbash, University of York This landmark handbook collects in a single volume the current […]
Videos & Webinars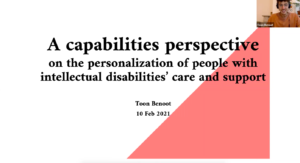 Presenter: Toon Benoot, Ghent University
Systems of personal budgets for people with disabilities aim to contribute to the choice and control people have over their own care and support trajectory. The redistribution of welfare resources to service users is intended to contribute to quality care, individual autonomy and personal wellbeing. In this presentation, Toon will outline the key findings of his PhD, discussing how these policies, explicitly modelled as capability promoting policies, influence the practice of care and support for people with intellectual disabilities. Central topics are the notion of 'a capable human being' and the capability to aspire. He draws on a variety of data that reflects the voices of different parties involved in the support process: from people with intellectual disabilities, executives of care organisations and social workers who administer budgets.
Toon Benoot is affiliated to the Department of Social Work and Social Pedagogics at the Faculty of Psychology and Educational Sciences of Ghent University. Toon works on pedagogics in a context of personalised care for people with disabilities. His fields of interests are: welfare reform, theories of social justice and the conceptualisation of autonomy and in(ter)dependency.
HDCA Webinar
2021
Health and Disability
59 minutes
This webinar offers the opportunity to hear about exciting work in progress that is likely to be of interest to many in our thematic group and beyond.
"Implementing and evaluating capability care for patients with neuromuscular disease" – Bart Bloemen (Radboud UMC, the Netherlands)
"Health capability profile of people living with chronic hepatitis B virus in rural Senegal, a research protocol" – Marion Coste (Aix-Marseille University, France)
"Quality of life for young people with life-threatening and life-limiting conditions" – Isabella Floredin (University of Bristol, UK)
"Interdepartmental relationships and tensions: initial findings on the complexities of delivering a national social assistance for disability programme" – Zara Trafford (Stellenbosch University, South Africa)
HDCA Webinar
Health and Disability
HDCA Videos
82 minutes